This is my first Polyvore post like this… I was inspired by one of my blogger bffs, Elena Michelle, to start creating shopping blog posts. I always am 'pinning' products I love on Pinterest but don't have the funds to buy. I'm constantly finding new trends and styles that I am obsessing over – whether its cobalt, fur, star prints, etc. and I feel the need to start sharing with y'all because obviously I cant afford everything I want so maybe if I share what I am on the look out for, I can live vicariously through you! I am going to try to post a shopping post once a week on Wednesdays as my "Lexicon Loves" for those of you who are ready for the work week to be over and looking for pieces to wear this weekend. (Continue reading below)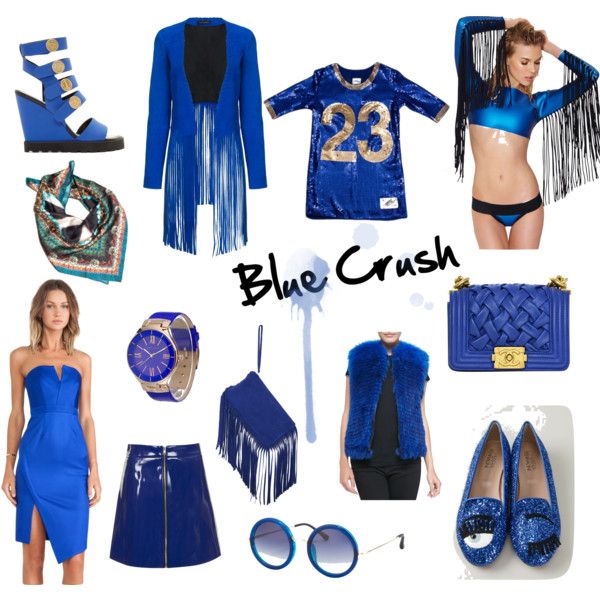 Its no surprise that my first "Lexicon Loves" is called Blue Crush, inspired by my addiction and obsession with cobalt blue. I have always loved cobalt blue. There is something so striking to me about the color and it honestly looks great on anyone. Its so edgy and bold. In this post I have provided you all with cobalt pieces that can be worn during the fall and winter and/or spring and summer. We're in the awkward transitional period where its warm during the day and then cold at night so I gave some fur vest options that I feel are still appropriate for the night time but also some great swimwear items that are perfect cobalt pieces for the summer.
Can you believe that NastyGal fringe getup is a SWIMSUIT?! I think I need it right now… I cant wait to start sharing with yall my current obsessions whether its just random stuff I like or certain trends. On a side note… According to WHO WHAT WEAR the 'neckerchief' is IN for spring! What better than the Iris Scarf to go along with all this fun cobalt blue?! Get your Lexicon of Style 'neckerchief' at my shop! Anyways, I love browsing online for things so I hope you all get some inspiration out of these posts. What are your thoughts? Do you find posts like these helpful or no? I would love to hear what you think!
Recent Posts
17Nov
16Oct

03Jul