DIY SKINCARE
Save your money and do it yourself! There are SO many amazing at home skincare options if you are really struggling with a certain issue or just looking for something to keep yourself busy. However, always be careful your skin is very delicate so stick to one or two masks a week and know your skin type before you put anything too harsh on it! Chloie and I pulled together some ideas for yall! Oh and I have attached some of my fav premade masks at the end of the post too. Enjoy!
Sweet Papaya Mask: Papaya is a great fruit for your skin. It has an enzyme called papain that is responsible for skin brightening, reducing unwanted hair, exfoliating dead skin, repairing ageing skin etc. The highest concentration of this enzyme is found just under the peel of unripe papaya.
Combine mashed

papaya

with the 1 teaspoon of ground

cinnamon

and 3 teaspoons of pure

honey

in a glass or plastic bowl. 

Apply the paste to your

face

and keep it on for about 20 minutes. Wash your

face

with warm water.
Egg Yolk Mask: Egg yolk is rich in vitamin A, proteins and other nutrients that nourish, hydrate and moisturize the skin. Egg Yolk is made up of mostly water and fats, which makes it a great for locking moisture into your skin cells, leaving your face soft and supple. This face mask works wonders for people with dry or flaky skin.
Combine one egg yolk, one tablespoon of honey, and two drops of almond oil.

Apply to the face, and rinse off with warm water after 20 minutes.
Very Berry Mask: Strawberries are a natural refreshing item. Strawberries are good for oily and acne skin, they work as an antioxidant and brighten up your face. You can also use other berries with the same results; only you should definitely mash the smaller ones. 
You can mash the strawberries into a mask or just cut them into halves and rub them over your skin. 

Feel free to add a dash of cinnamon for added acne protection!

The anti-fungal, antioxidant and anti-bacterial properties of cinnamon make it great for fighting acne and skin blemishes. Cinnamon can also help remove acne by drying out the skin and by supporting blood flow to the skin.
Grape Mask: Just mash and apply to skin. Grapes are great for anti-aging. Cranberries work in the same way as well!
Just mash and apply to skin.

This would be an easy one to mix cinnamon, honey, strawberry or even cucumber for a calming effect.

Apply to skin for 20-30 minutes. Wash off with warm water. 
Lemon Mask: a Great exfoliating and moisturizing mask! Lemons are rich in vitamin C and citric acid, so they can help brighten and lighten your skin when used over time. Vitamin C is a great antioxidant for neutralizing free radicals (free radicals are basically sh*t that break down your cells and cell turnover, advancing the aging process.) and boosts collagen production and can help lighten dark spots.
Mix the juice from 1 lemon with 1/4 cup olive oil or sweet almond oil. 

Combine and apply to the face. Leave on for 20-30 minutes. Wash off with warm water.
Reishi Mushroom Mask: Helps to reduce inflammation and redness. LINK HERE (I am a big fan of the True Spoon! She has tons of tips, tricks, product recs, and more. She focuses on eat to glow recipes and homeopathic skincare) 
Exfoliating Body Scrub: This is really great for dry or dull skin. This can also help brighten and heavy out any skin pigmentation issues or dark spots. Makes your skin silk smooth and hydrated. 
Ingredients: Brown Sugar, any type of oil, lemon, essential oils (optional)

Place 1 cup of Brown Sugar in a small bowl, then begin adding the oil 1 tablespoon at a time, mixing in between. You will use anywhere from 3 – 5 tablespoons, depending on the oil. (I added oil options below and some of their benefits. Olive Oil is my suggestion and most likely already in your kitchen!)

Squeeze half a lemon.

For extra scent and added benefits feel free to add your favorite essential oils. Something like lavender would smell really nice and have an easy calming effect. 

Mix together. The consistency should be sandy, not soupy. If the mix is too soupy the sugars will dissolve in a day or two and not slough the skin as well, but you will still get added moisture from the oil. If it's too soupy, add more sugar.

Scoop into a sealed container and store at room temperature.
Nourishing Body Oil: Nutrient rich and replenishing for the skin. This is amazing for sensitive skin types! LINK HERE  (Another great True Spoon Recipe!)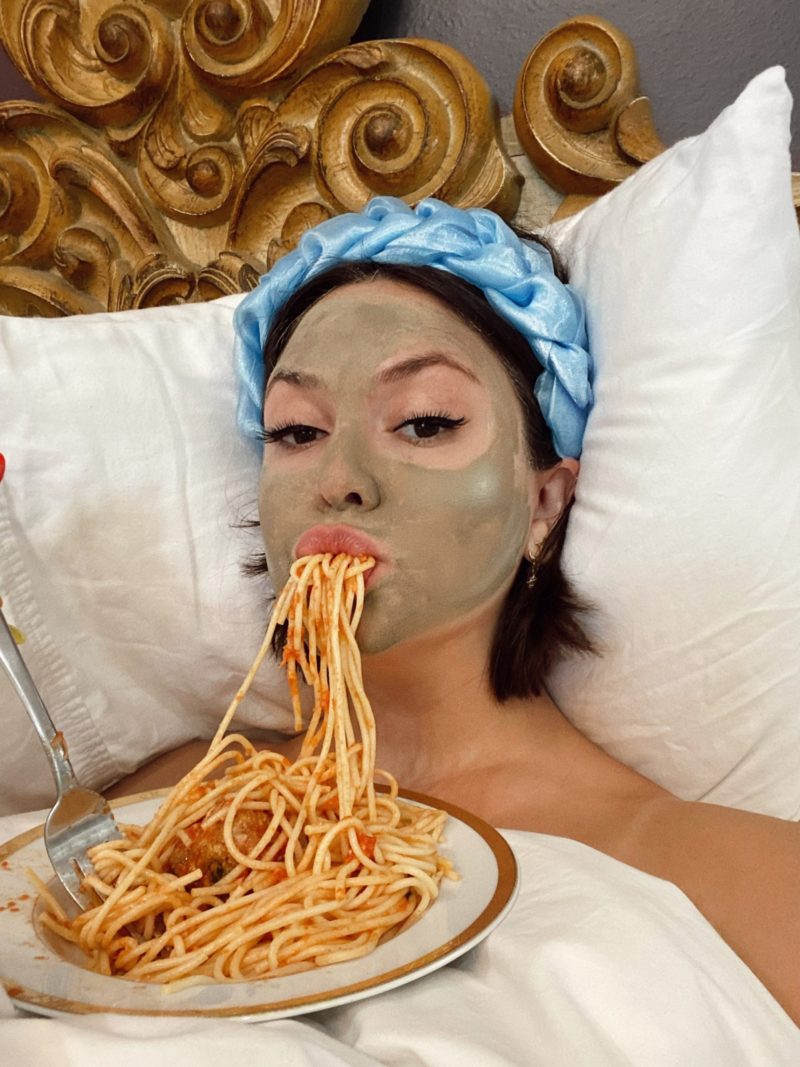 SHOP THE SOME OF MY FAVORITE FACEMASKS

Thank you Chloie for helping me round these up!