THE ONE IN BERMUDA
Exactly one year ago, Court and I took a romantic trip to the Bahamas and now we have decided to make it an annual trip, so this year we visited the lovely BERMUDA! Did you know Bermuda is just a 1.5 hour flight from NYC?! I mean it almost takes longer to get to the Hamptons. So why wouldn't anyone hop on over to this beautiful island?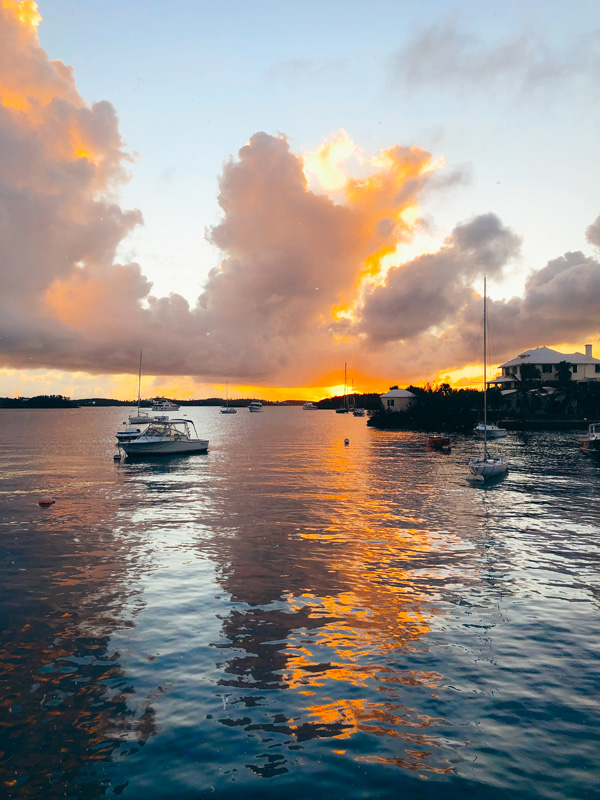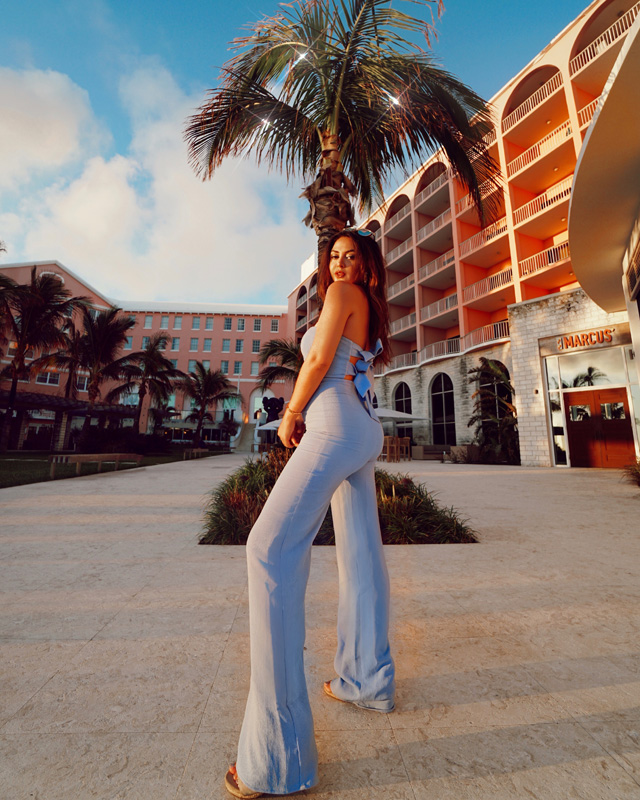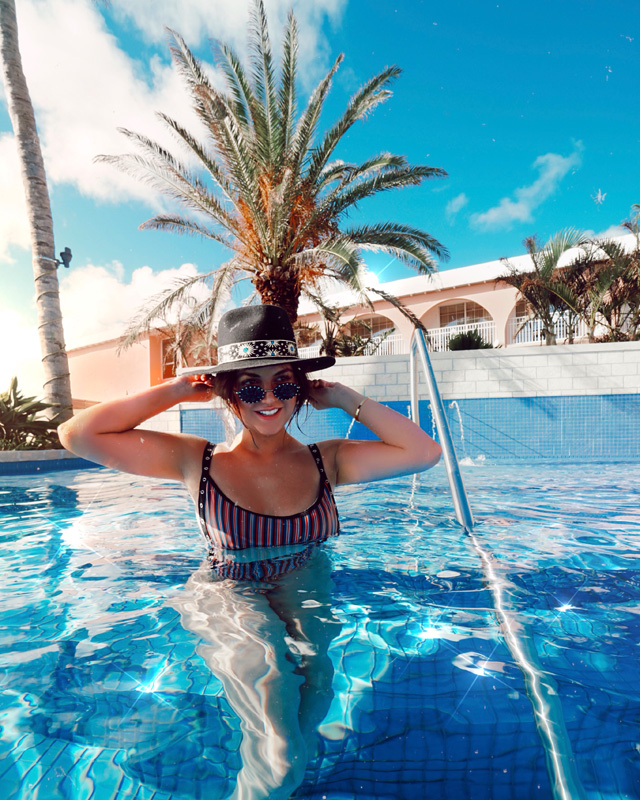 Wondering where to stay? The Hamilton Princess might be hands down one of the most beautiful resorts ever! Not only is the resort all pink (cough cough the most instagrammable paradise ever) but it holds a 300-piece collection of modern and Pop Art that includes works by Andy Warhol, Kaws, Jeff Koons, and several works by the OGs like Matisse and Picasso. So for all of my art lovers out there, this resort is literally A GALLERY. Artwork. On. every. Corner. One of my favorites was the Louis Vuitton Eye Love Superflat by TAKASHI MURAKAMI by their spa water in the lobby… who knew spa water could get fancier?!  I mean I loved it all but that one def caught my eye 😉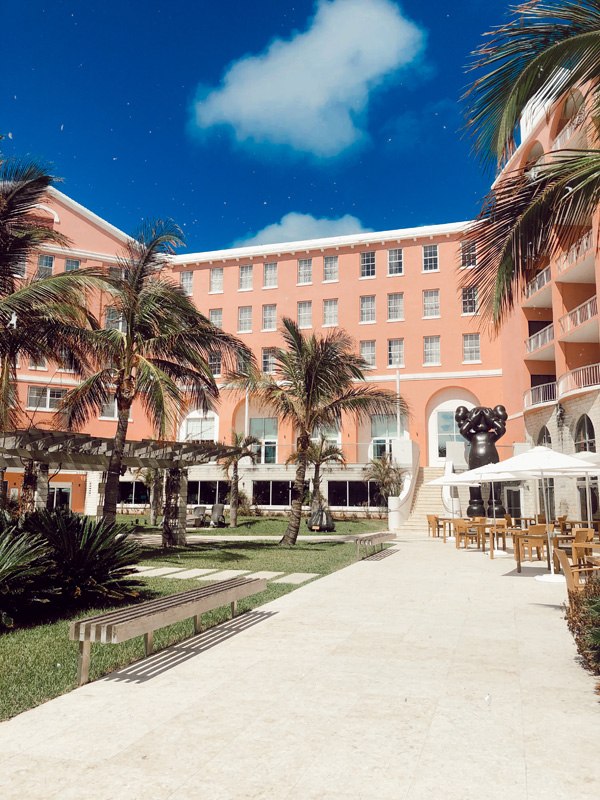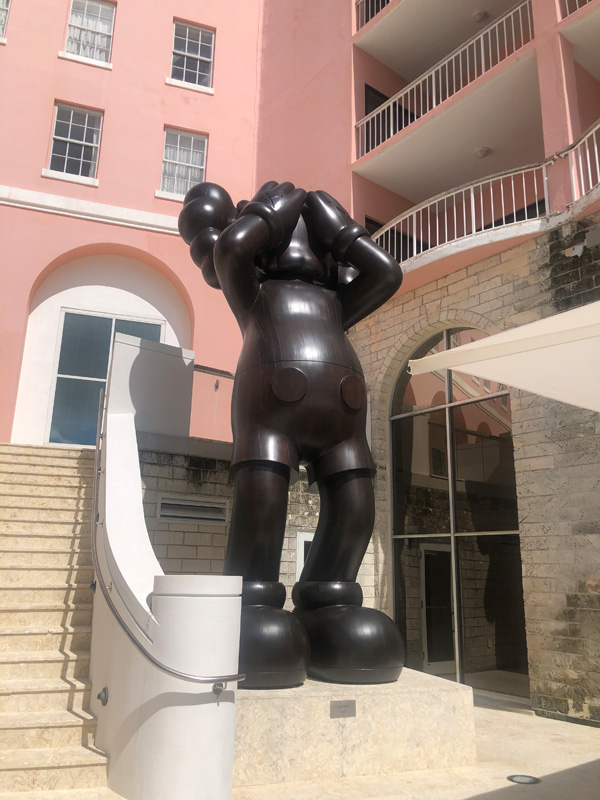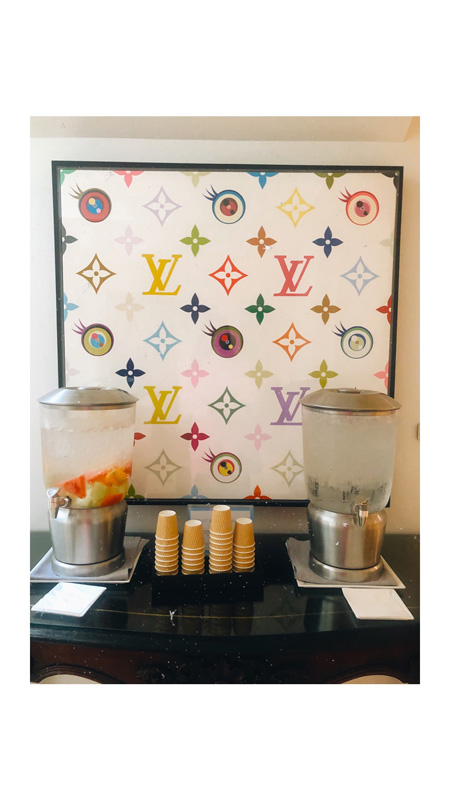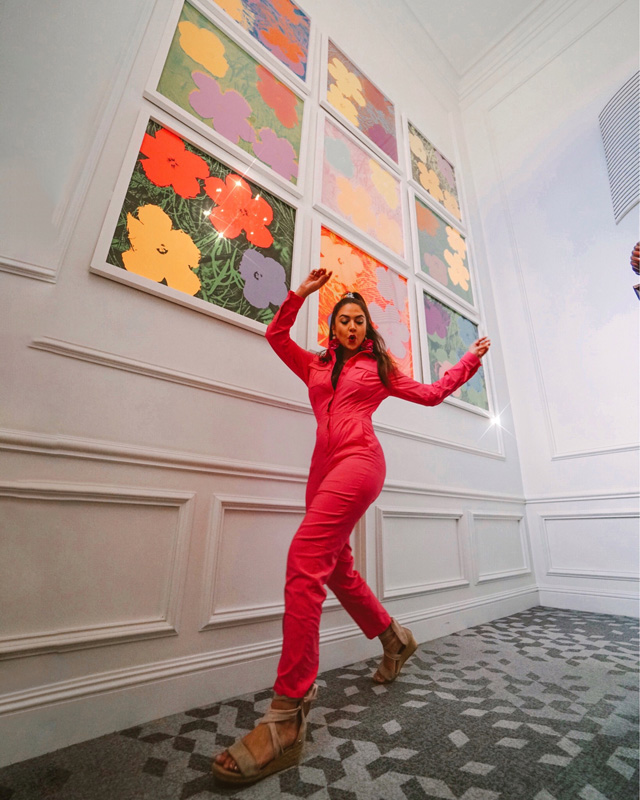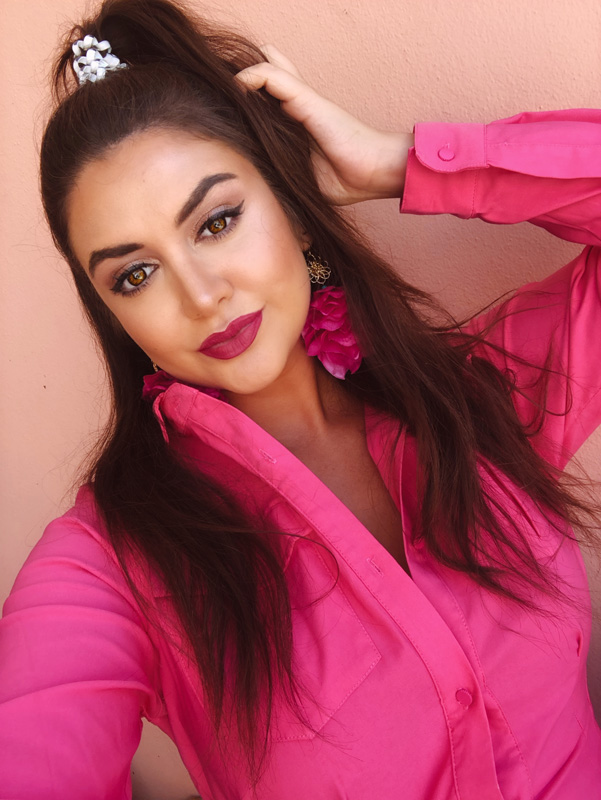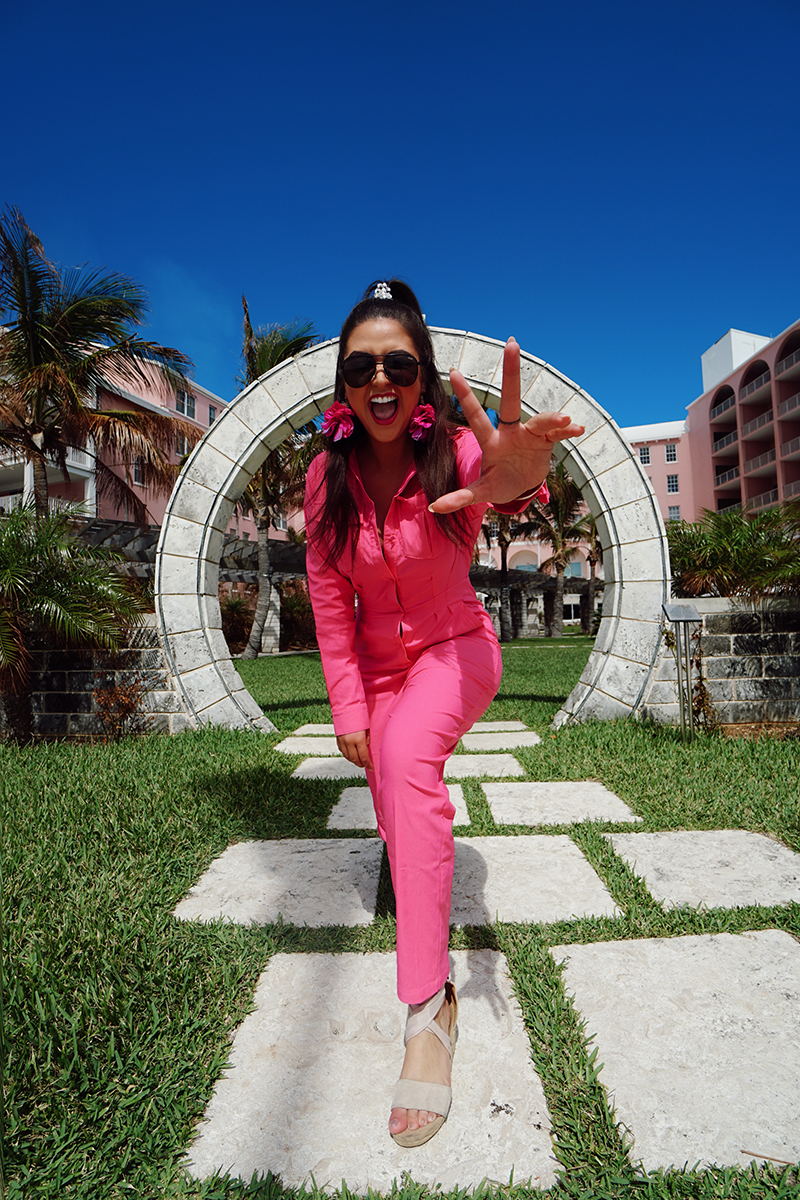 In addition to all the artwork the resort also has two beautiful pools (one infinity pool) and a gorgeous bay to look out to. We spent the day ordering pina coladas at the infinity pool looking out at the water and just soaking up everything that is The Hamilton Princess and Bermuda. The service, the SUNSET, the food, were all fabulous. Just a quick side note, the sunsets in Bermuda are unlike anything I have ever seen. The sky turns to orange and bright blue… Literally the most stunning. But back to where to go and what to do…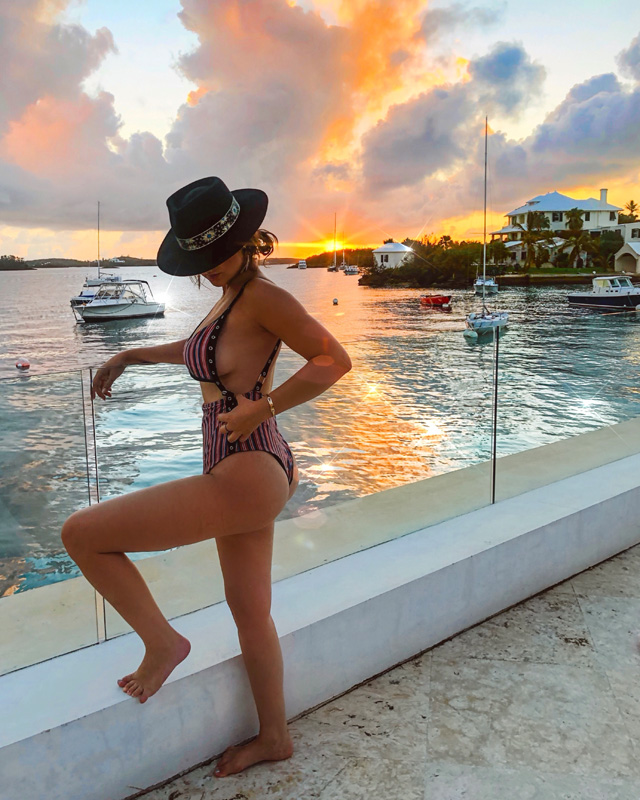 The first night Court and I ventured out into the town of Hamilton and went out to the Doghouse. I am not gonna lie to yall, there's not much going on in the town of Hamilton on a Wednesday night but y'all know me and Court, we made our own party haha. Doghouse has a pool table, beer pong, cornhole, and everything you could want in a small town bar! I am sure there are other places to go at night but this is where we went and we absolutely made a night of it.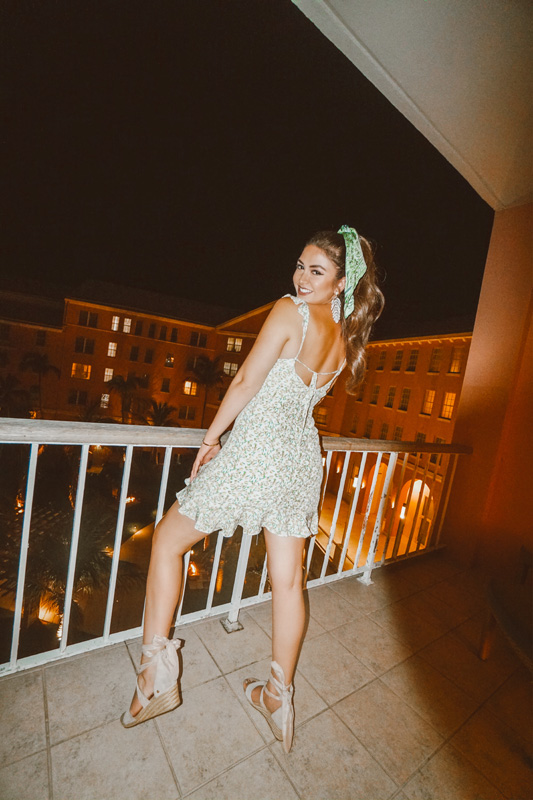 Day 2 we showed ourselves around the hotel and checked out all the art! Of course we captured some photos along the way 😉 (see below).  Then we took the resort Jitney (which come every 45 min and it's about a 15 min ride to the beach from the hotel) down to the private resort beach club for the day! They have a restaurant and bar down there with cabanas on the beach. It's literally the perfect set up and so secluded. And I was most excited about the buttons in the cabanas that calls your waiter for drinks hahaha. But seriously, talk about first class service! They also have these really cool hammocks in the water where you can just float and chill (which I did for most of the day while trying to stay on top of emails of course). The water is so blue and beautiful over there. I still can't believe this paradise is just a 1.5 hour flight away!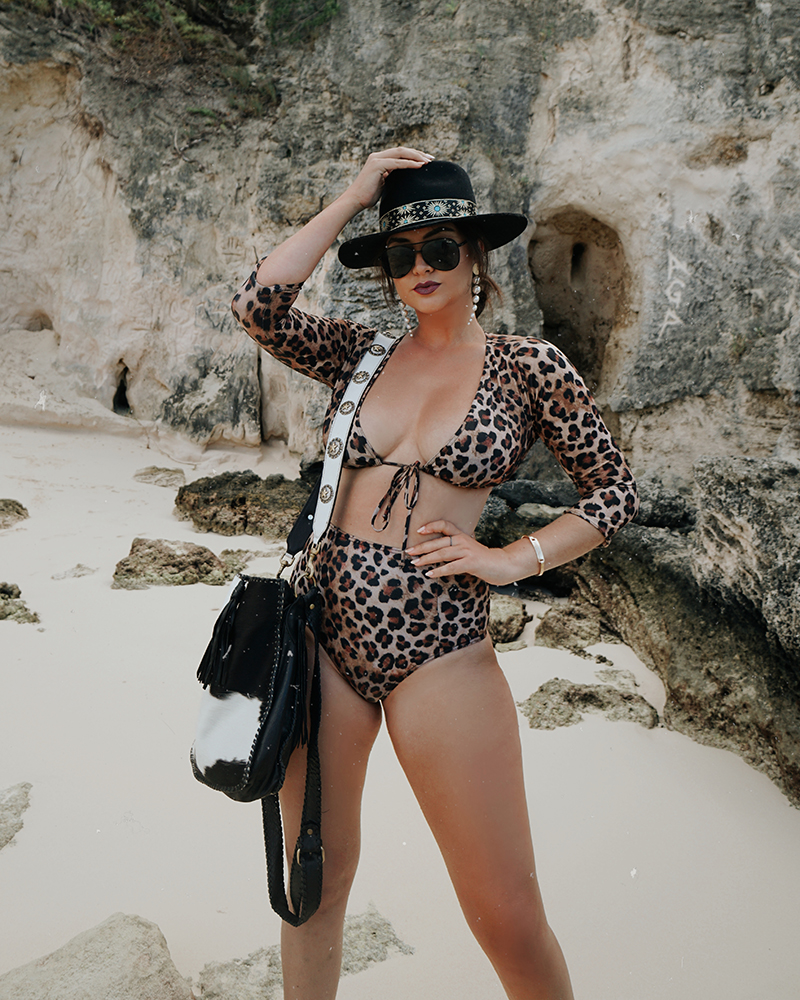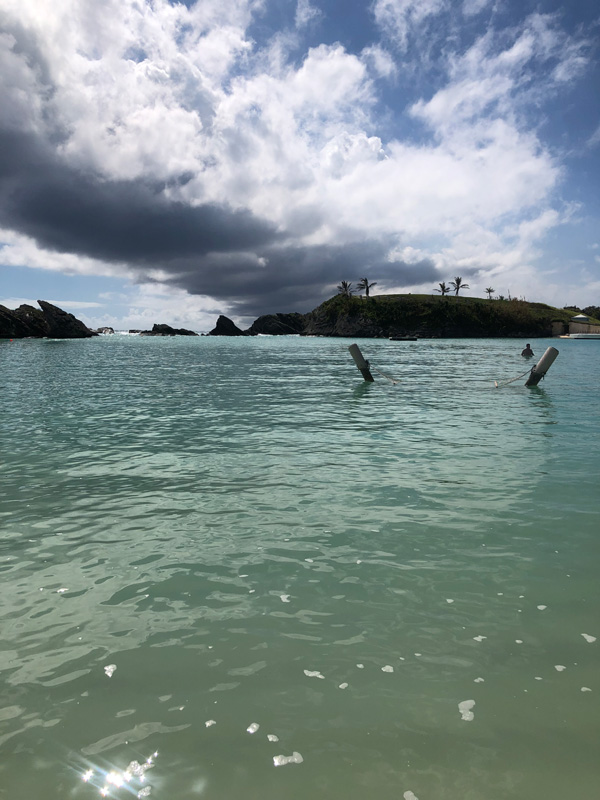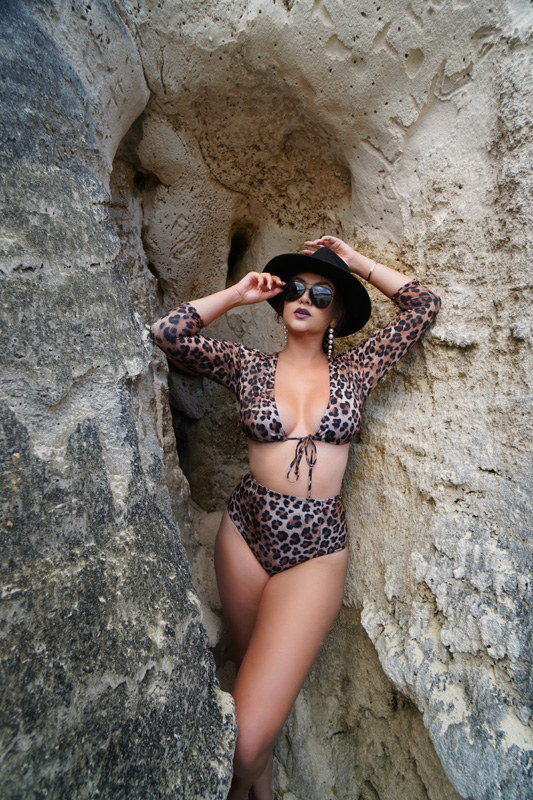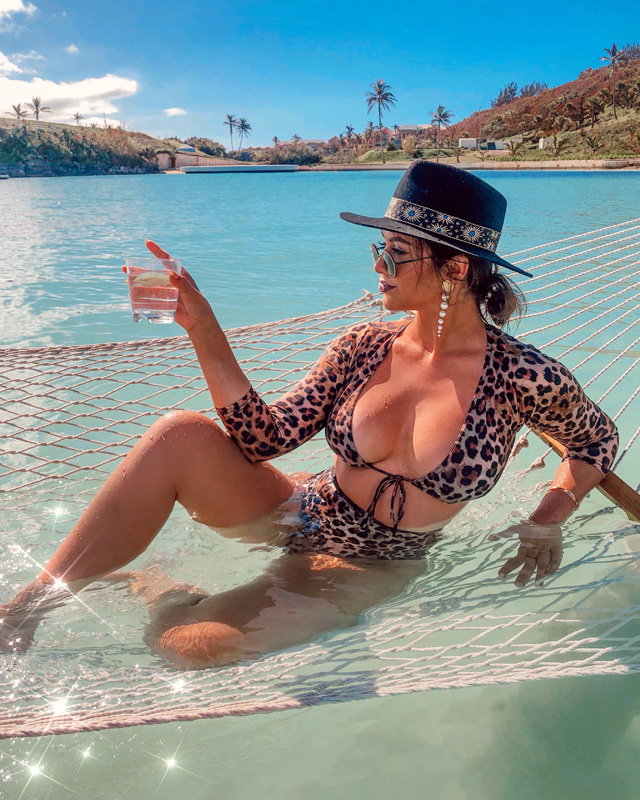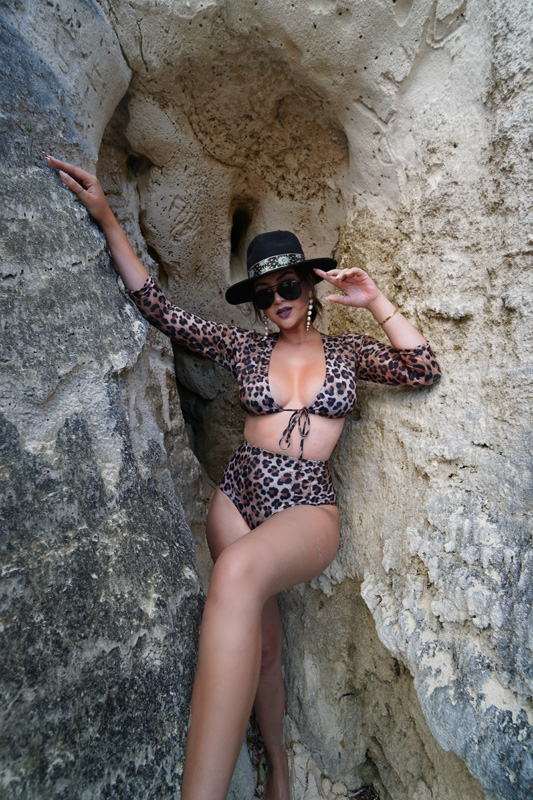 After chilling at the beach we went to Marcus's  at the resort for a 5 hour (YES 5 HOUR) long romantic (lol) dinner facing the sunset. It was such a beautiful dinner and we def recommend the fried cauliflower. I mean everything was amazing but I could live off that cauliflower for the rest of my life! The bar inside of Marcus's turns up a bit if you wanna stay out after dinner like Courtney and I  did with some espresso martinis and some Don Julio 1942 haha.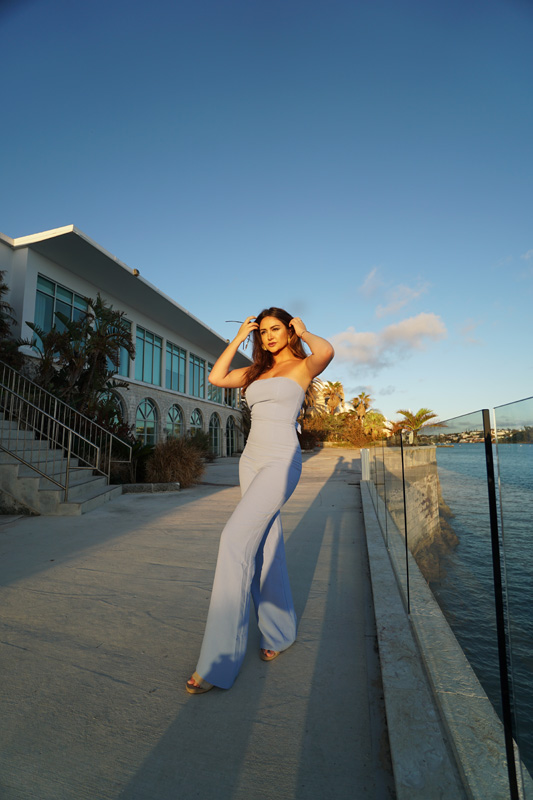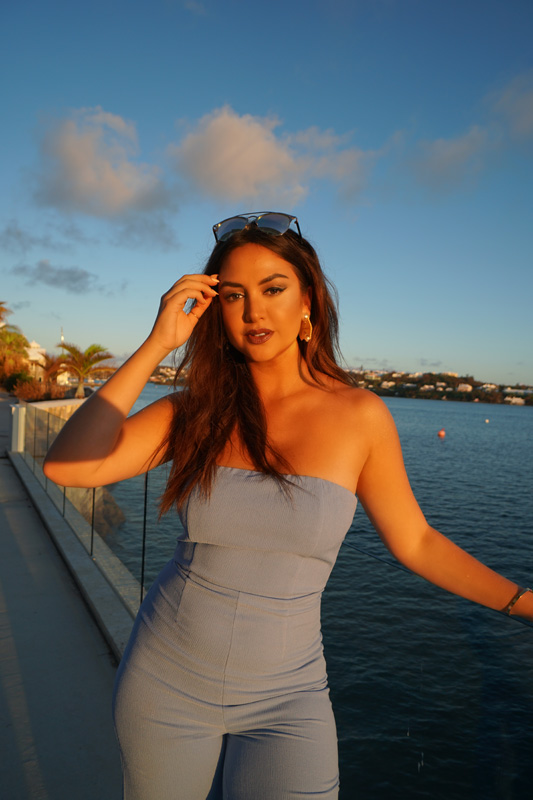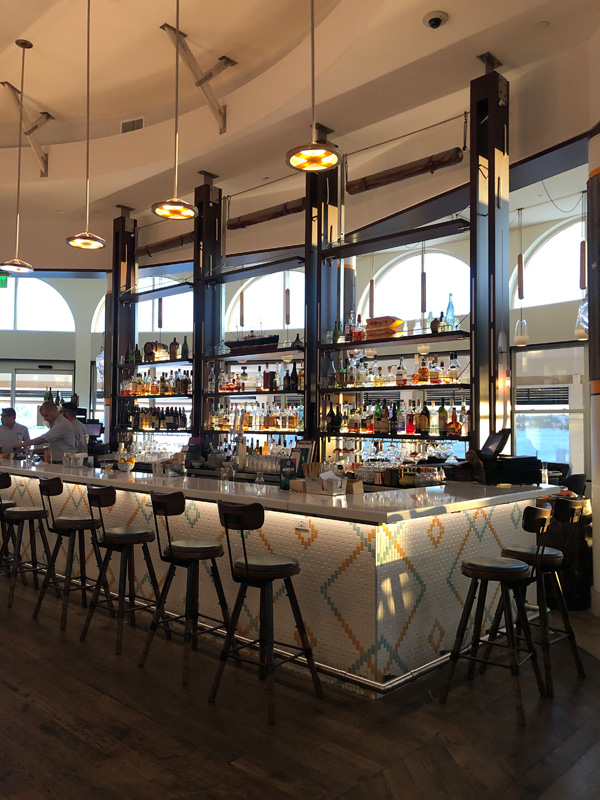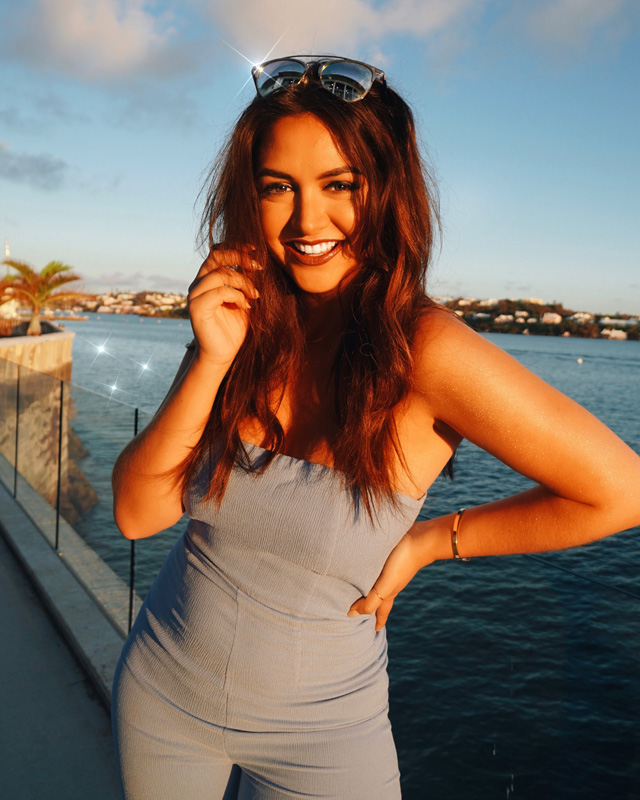 Our last full day Court and I wanted to go on an adventure so, if you know me, we  booked a 4 hour private charter with Captain Chris on the PlayPen! WOW. Y'all know how I love being on boats and charters, and this one really was unlike any other one I have been on. We had two jet skis and a giant waterslide! This is the perfect boat for families, bachelor/bachelorette parties, birthday parties, or any occasion really! I mean, it was just the two of us and it was still amazing. Not to mention, its super convenient because Captain Chris actually brings the boat to the Hamilton Princess Marina, so you don't really even leave the hotel. Before getting on his boat we stopped by Luxury Gifts Bermuda in the lobby of the resort to get this adorable FUNBOY cellphone float to chill on. How cute is it?! Haha we kept telling Court to, "GET OFF HER PHONE!" LOL please refer to @courtandkelly's IG video of Courtney floating around on it hahaha. Anyways, we had an incredible time on the Playpen and we will definitely be seeing him again when we return! You can contact him here: [email protected] or 1-441-300-8692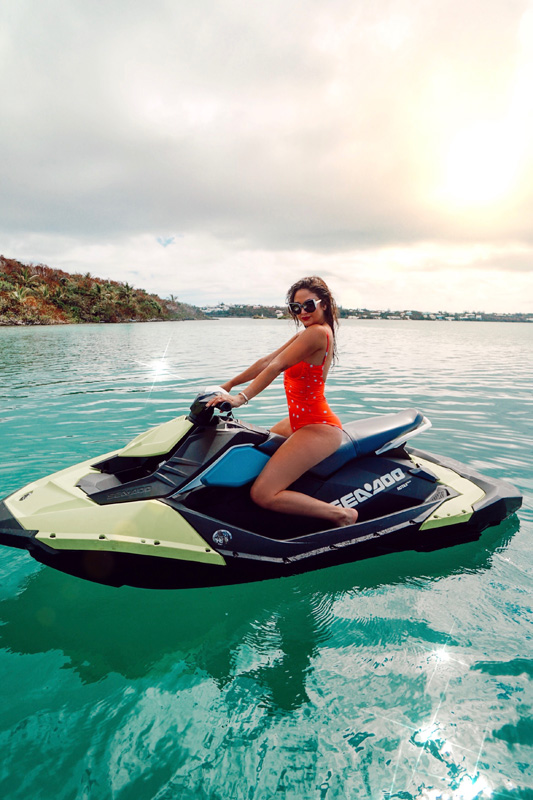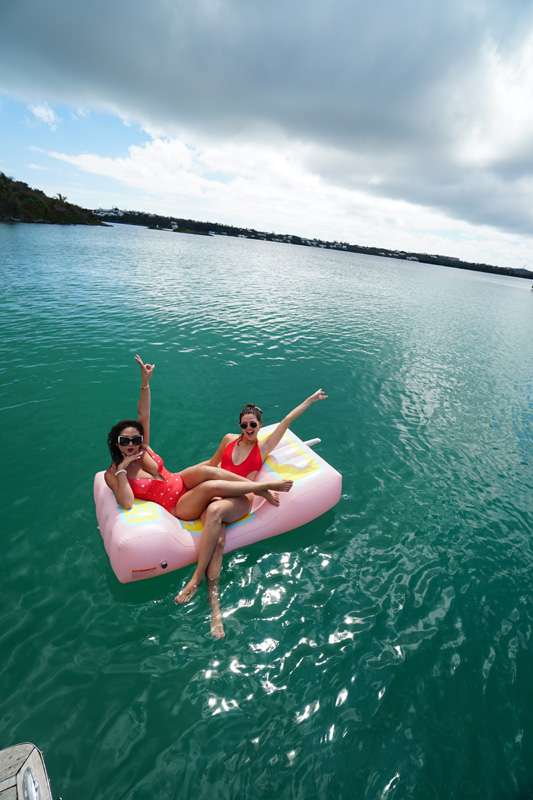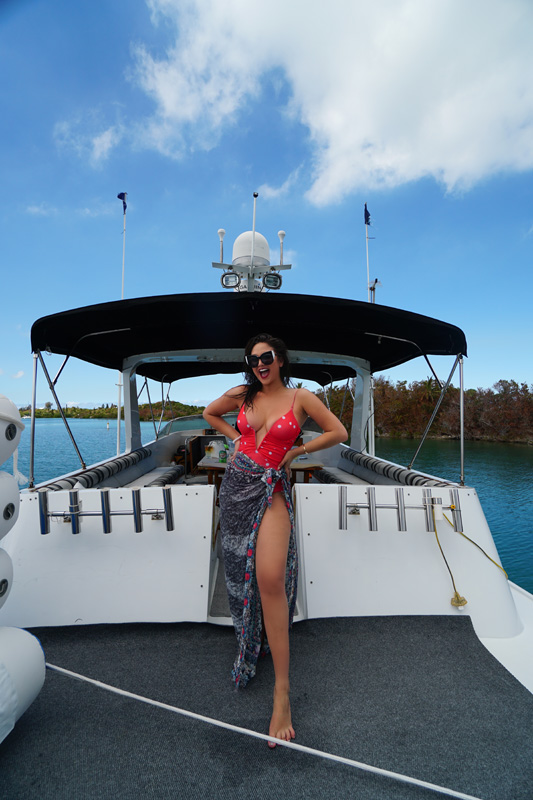 For our last afternoon we went into the town again (which is only a 5-10 min walk from the hotel) for a late lunch and some shopping! We stopped by The Pickled Onion and had their chicken pasta (which was so so good) and a drink while looking out at the water. We went during the day but at night it turns into live music! I also stumbled across this adorable boutique called Urban Cottage that was closed by the time we got there but it looked SO cute inside!! I was like a little kid staring at a puppy through the window… I was staring at all the sequins! I definitely will be stopping by there when I am back. But if you go before me, be sure to let me know how it is!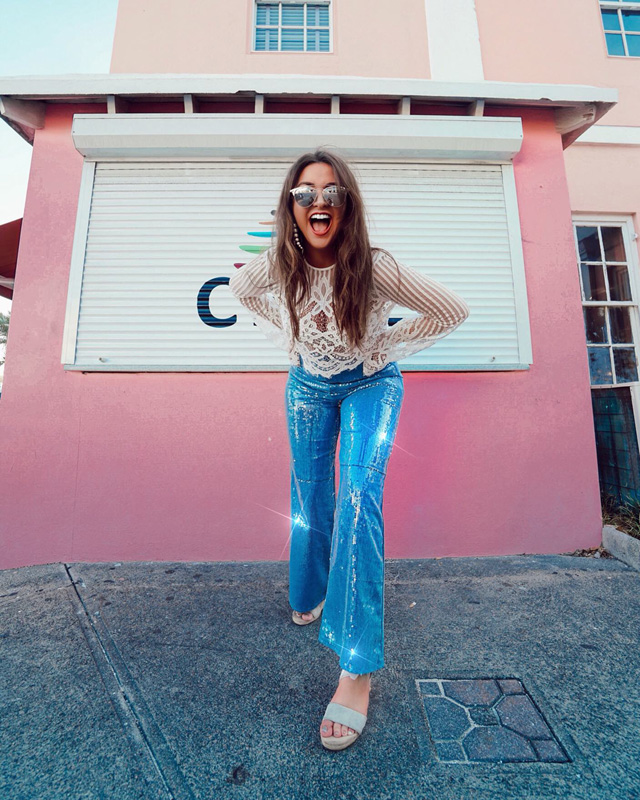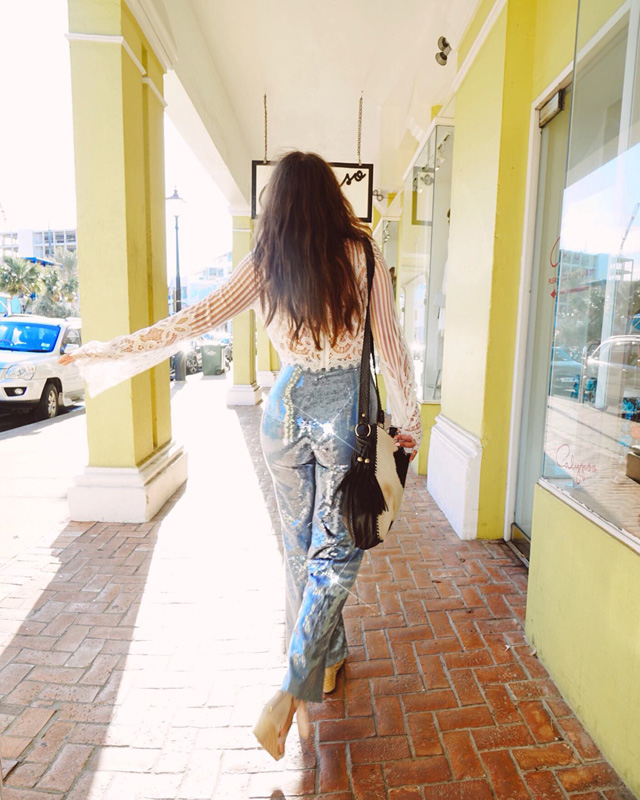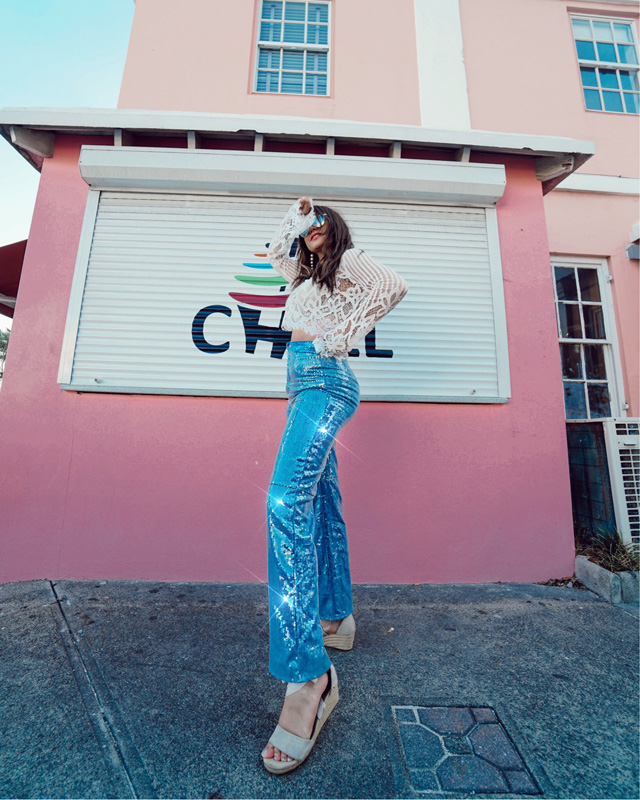 We decided to stay in that night and just enjoy the hotel. The Hamilton Princess was such a beautiful stay that we didn't ever want to leave. PS if you are a Fairmont Gold member you get hooked up with your own lounge on the second floor with the best food and full bar! Definitely worth looking into. But I just want to end this travel guide with giving a huge thank you to The Hamilton Princess for such a memorable stay. I can't recommend to y'all enough this hotel and if you are based in NYC, you have to make some time to escape to Bermuda ASAP! Be sure to check out my BERMUDA highlight on IG for more snaps.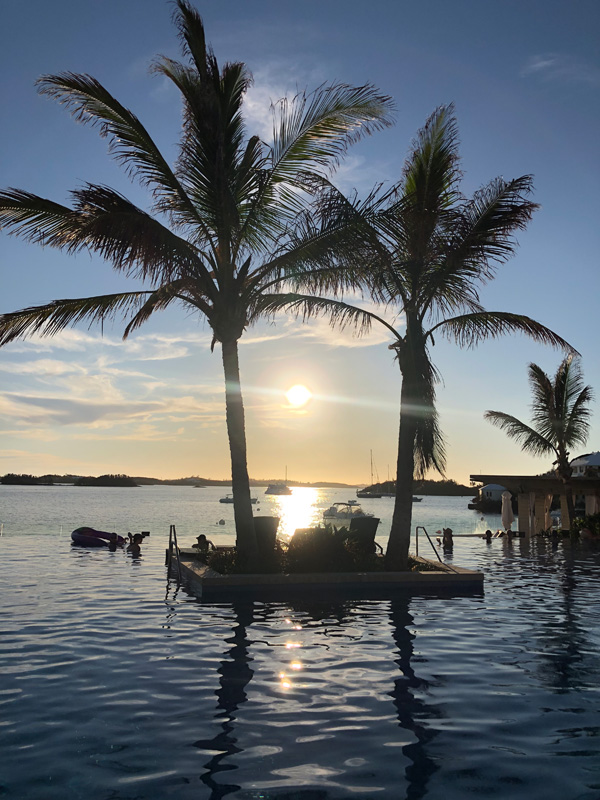 You can follow along on all my travels with my hashtag #lexiconofTRAVEL or check out my other guides here on my blog and YOUTUBE!
Be sure to shop my looks at the end of this post and hit me up if you plan on going to Bermuda!
Xx
Lex
SHOP THE LOOK

Thank you to Hamilton Bermuda Princess for having us! And thank you Chris for a fabulous day on the Playpen Charter!
And thank you to my Revolve and ASOS family for the looks!