Two big names that brought fun and street art to life
Many people have pointed out to me over the years that my style is different. It's not what every young woman shops for or looks forward to putting on in the morning. The style I have collected and [somehow] fit into my tiny West Village apartment has truly been a constant representation of who I am and what I love about fashion. 
One of the most difficult things for a designer to accomplish is staying in tune with the latest trends, while keeping their audience and stakeholders in mind. Day 2 brought forth two iconic and inspirational shows that I was lucky to attend. 
First up was Betsy Johnson. The spunky and boundary pushing designer, who is now 73 years old, has continuously surprised the fashion world with her funky designs and playful party dresses. Her career was kicked into full swing after entering a guest editor contest, which she won, leading her to become the in house designer for a high end Manhattan boutique. After working hands on with different brands in the city, she started her own line. Now over 40 years later, she is still cranking out some of the most fashion forward and funky pieces. Oh, and did I mention that she did the splits on the cat walk after the final collection walk through? I think it's safe to say she is killing it. My favorite looks from the show are below [photos gathered from WWD] 
The models in the Betsy show were different than most I have seen before. There was a center strip in the middle of the runway that each model stood on after walking the cat walk. Once each collection was all in the middle, they celebrated the pieces they were wearing by dancing and shouting to the music. Each model walked with an immense amount of pride, which made me feel so thrilled for the designer.
My assistant Jacqueline and I headed off to Skylight Clarkson Square to see the Nicole Miller show. Nicole Miller launched her brand over 20 years ago, and has since then continued to design some of the most spectacular pieces celebrities have chosen to wear. This spring and summer collection really drew me in, as it was all street art inspired. 
Full of color and attitude, each model strutted a piece that represented the streets of our city. With a mix of sequins, graffiti lines and pops of chic, this collection spoke volumes to the NYC crowd that gathered together to see what Nicole was going to shock us with this time. 
I picked some of my favorite looks [gathered from WWD] below for y'all to take a look at. The neon lights and city music that boomed during this show truly made me feel as if I were at a SoHo street show; full of creativity and heart beats that belong to the city.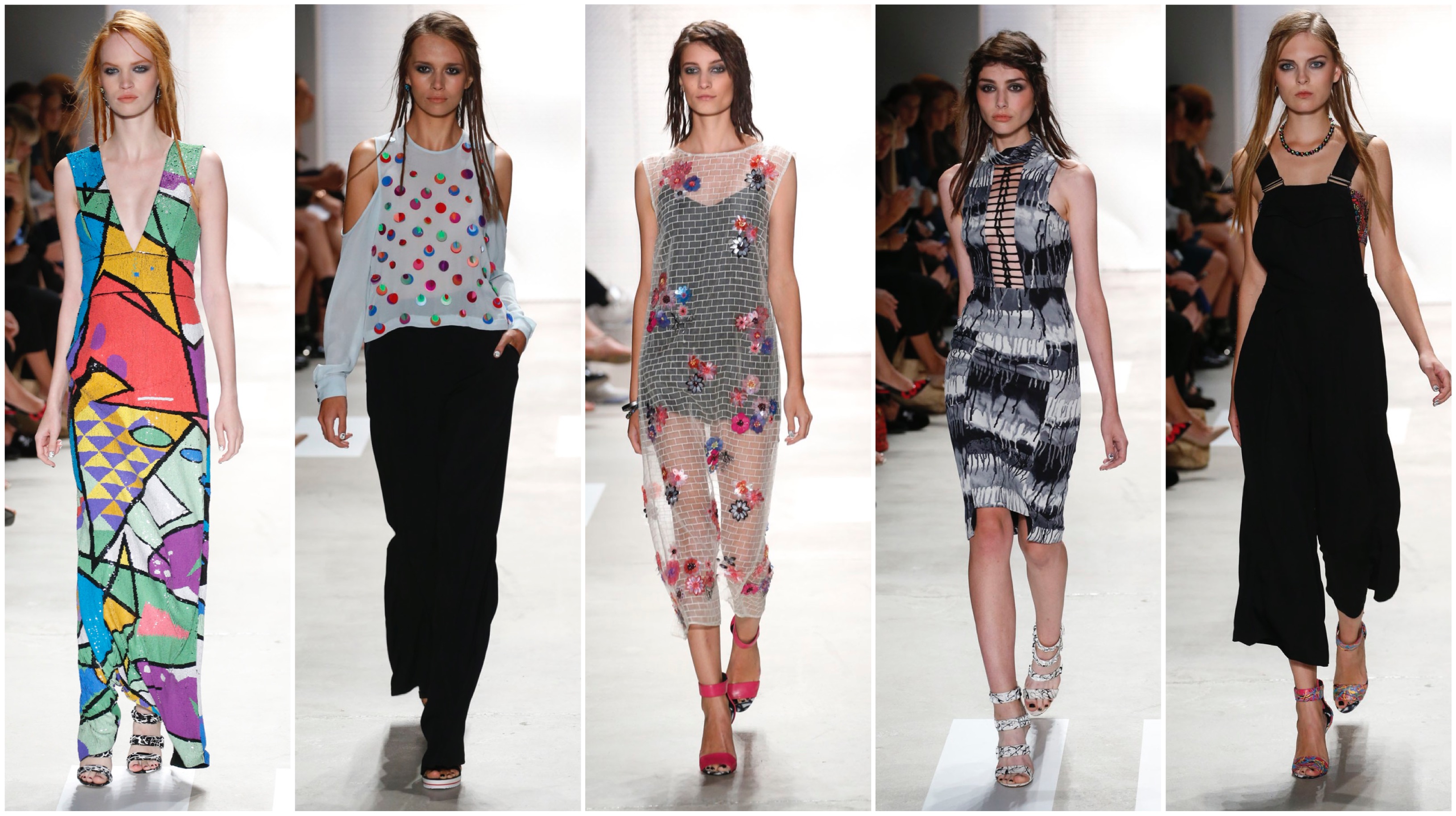 Day 2 reminded me of how important it is to dare ourselves every once in a while. The amount of time that these two inspiring designers have been working towards the same goal is all that I want and more for Lexicon. For decades, these women have stuck to their spunk and their sense of style, while making sure that
their designs reach their audience
that they color outside the lines once in a while
Thank you Betsy and Nicole, for the excellent work and reminder that fashion is meant to be full of creativity and fun.
Let me know what y'all think about these looks! More to come.
Xx
Lex
[Piece contributed to by Jacqueline Kooser]
SHOP THE LOOK

Thank you text and links go here
Notice
: Undefined index: widget_max_width in
/var/www/wp-content/plugins/shopbop-widget/lib/CoreWidgetPublic.php
on line
101
Notice
: Object of class WP_Error could not be converted to int in
/var/www/wp-content/plugins/shopbop-widget/lib/CoreCategories.php
on line
795
Notice
: Function wpdb::prepare was called
incorrectly
. Unsupported value type (object). Please see
Debugging in WordPress
for more information. (This message was added in version 4.8.2.) in
/var/www/wp-includes/functions.php
on line
5905
Warning
: explode() expects parameter 2 to be string, object given in
/var/www/wp-content/plugins/shopbop-widget/lib/CoreCategories.php
on line
807
Notice
: Object of class WP_Error could not be converted to int in
/var/www/wp-content/plugins/shopbop-widget/lib/CoreCategories.php
on line
795
Notice
: Function wpdb::prepare was called
incorrectly
. Unsupported value type (object). Please see
Debugging in WordPress
for more information. (This message was added in version 4.8.2.) in
/var/www/wp-includes/functions.php
on line
5905
Warning
: explode() expects parameter 2 to be string, object given in
/var/www/wp-content/plugins/shopbop-widget/lib/CoreCategories.php
on line
807
Notice
: Object of class WP_Error could not be converted to int in
/var/www/wp-content/plugins/shopbop-widget/lib/CoreCategories.php
on line
795
Notice
: Function wpdb::prepare was called
incorrectly
. Unsupported value type (object). Please see
Debugging in WordPress
for more information. (This message was added in version 4.8.2.) in
/var/www/wp-includes/functions.php
on line
5905
Warning
: explode() expects parameter 2 to be string, object given in
/var/www/wp-content/plugins/shopbop-widget/lib/CoreCategories.php
on line
807
Notice
: Object of class WP_Error could not be converted to int in
/var/www/wp-content/plugins/shopbop-widget/lib/CoreCategories.php
on line
795
Notice
: Function wpdb::prepare was called
incorrectly
. Unsupported value type (object). Please see
Debugging in WordPress
for more information. (This message was added in version 4.8.2.) in
/var/www/wp-includes/functions.php
on line
5905
Warning
: explode() expects parameter 2 to be string, object given in
/var/www/wp-content/plugins/shopbop-widget/lib/CoreCategories.php
on line
807
Notice
: Trying to access array offset on value of type null in
/var/www/wp-content/plugins/shopbop-widget/vendor/mustache/mustache/src/Mustache/Parser.php
on line
278
Notice
: Trying to access array offset on value of type null in
/var/www/wp-content/plugins/shopbop-widget/vendor/mustache/mustache/src/Mustache/Parser.php
on line
278
Notice
: Trying to access array offset on value of type null in
/var/www/wp-content/plugins/shopbop-widget/vendor/mustache/mustache/src/Mustache/Parser.php
on line
278
Notice
: Trying to access array offset on value of type null in
/var/www/wp-content/plugins/shopbop-widget/vendor/mustache/mustache/src/Mustache/Parser.php
on line
278
Notice
: Trying to access array offset on value of type null in
/var/www/wp-content/plugins/shopbop-widget/vendor/mustache/mustache/src/Mustache/Parser.php
on line
278
Notice
: Trying to access array offset on value of type null in
/var/www/wp-content/plugins/shopbop-widget/vendor/mustache/mustache/src/Mustache/Parser.php
on line
278
Notice
: Trying to access array offset on value of type null in
/var/www/wp-content/plugins/shopbop-widget/vendor/mustache/mustache/src/Mustache/Parser.php
on line
278
Notice
: Trying to access array offset on value of type null in
/var/www/wp-content/plugins/shopbop-widget/vendor/mustache/mustache/src/Mustache/Parser.php
on line
278
Notice
: Trying to access array offset on value of type null in
/var/www/wp-content/plugins/shopbop-widget/vendor/mustache/mustache/src/Mustache/Parser.php
on line
278
Notice
: Trying to access array offset on value of type null in
/var/www/wp-content/plugins/shopbop-widget/vendor/mustache/mustache/src/Mustache/Parser.php
on line
278
Notice
: Trying to access array offset on value of type null in
/var/www/wp-content/plugins/shopbop-widget/vendor/mustache/mustache/src/Mustache/Parser.php
on line
278
Notice
: Trying to access array offset on value of type null in
/var/www/wp-content/plugins/shopbop-widget/vendor/mustache/mustache/src/Mustache/Parser.php
on line
278
Notice
: Trying to access array offset on value of type null in
/var/www/wp-content/plugins/shopbop-widget/vendor/mustache/mustache/src/Mustache/Parser.php
on line
278
Notice
: Trying to access array offset on value of type null in
/var/www/wp-content/plugins/shopbop-widget/vendor/mustache/mustache/src/Mustache/Parser.php
on line
278
Notice
: Trying to access array offset on value of type null in
/var/www/wp-content/plugins/shopbop-widget/vendor/mustache/mustache/src/Mustache/Parser.php
on line
278
Notice
: Trying to access array offset on value of type null in
/var/www/wp-content/plugins/shopbop-widget/vendor/mustache/mustache/src/Mustache/Parser.php
on line
278
Notice
: Trying to access array offset on value of type null in
/var/www/wp-content/plugins/shopbop-widget/vendor/mustache/mustache/src/Mustache/Parser.php
on line
278
JUST ARRIVED
Shop Deepa Gurnani Deepa by Deepa Gurnani Elo...

Oversized Trucker Vest by R13

Earhart Blinker Sunglasses
<
>
Lapins Lace Up High Heel Boots at Shopbop

Shop Minnetonka 3 Layer Fringe Boots
<
>
Recent Posts