October in NYC for Halloween
Happy Halloween to all of my readers out there! Y'all may not know but Halloween is one of my favorite holidays along with Christmas. I love dressing up. I always have ever since I was little. I even used to dress up like Mini Mouse or Alice in Wonderland to school on a regular basis. Another thing that I love is the makeup that goes into each costume! I love the art of applying makeup and how different you can make each makeover.
So every Halloween I try to do something a bit different and creative. Last year my best friend and I were Walt and Jesse from Breaking Bad which doesn't sounds too original but we were the only girls I saw that night dressed up as them :).   I wore a HAZMAT suit, with a green button up, glasses, loafers, and little white lace shorts that were supposed to resemble Walt's tidy whities haha(continue reading below)….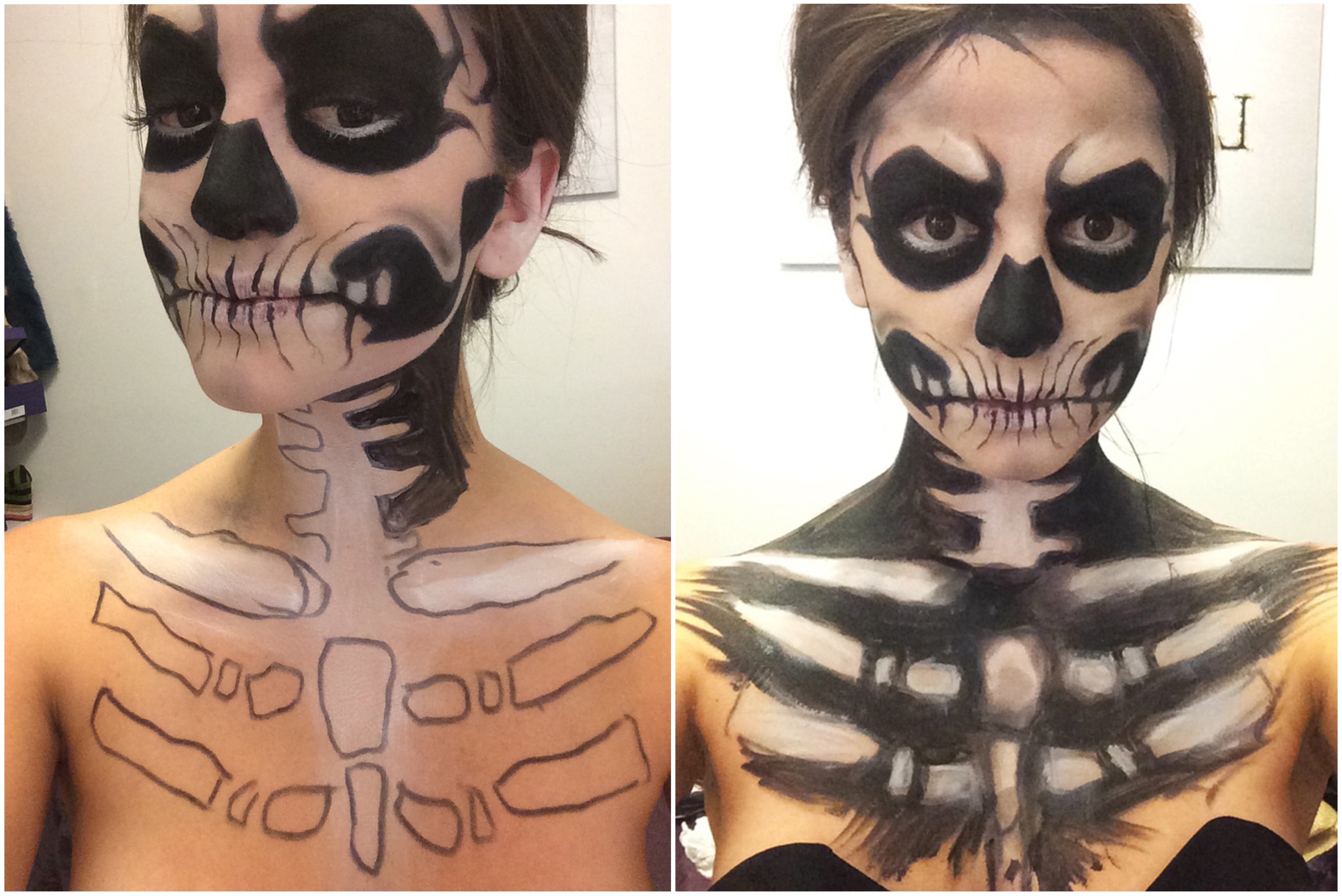 Anyways lets focus on this year's costume. Like I mentioned in my previous post, I have been in a bit of slump for the past month/month and a half so I decided to play along with my current mood and be a glam skeleton. I even went so far to get little skulls on my nails :). I went to PaintBox (my favorite nail salon ever) and got my nails done by Gracie J from @TheEditorialNail! She helped me decide on the gold foil to complement the gold skull and I couldn't love it more. I am also wearing the black distressed denim jeans I wear everyday, and other pieces from my closet that I wear normally. So other than the make-up and manicure, this costume didn't cost me anything! I am not aiming to be a slutty skeleton- just moderately cute considering I look like death haha. Here I show you photos of how I went about doing it. I am not really good at giving tutorials, especially because this was my first time to do it. So I am going to try to do my best to explain to you how I did it…. Hope it helps and enjoy! Have a very scary and happy halloween! (Continue below for tutorial)…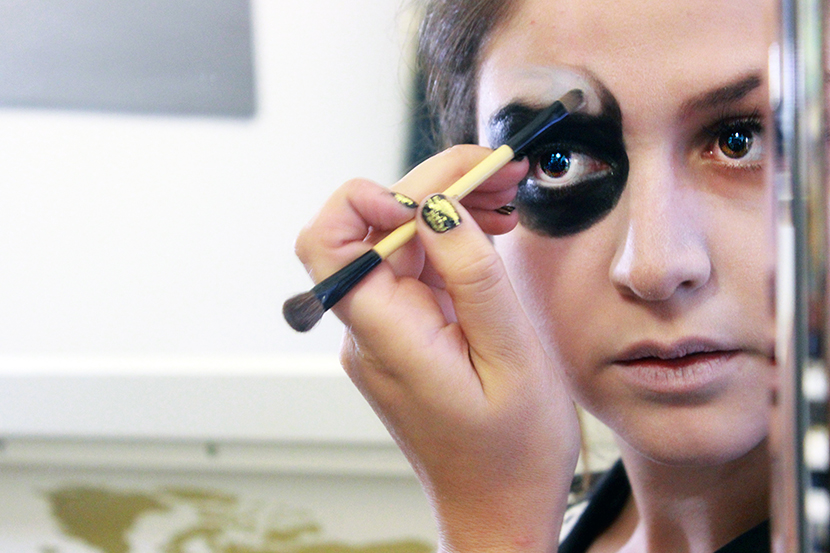 First of all, you're going to need white and black face paint (paste or liquid), two thick black eyeliner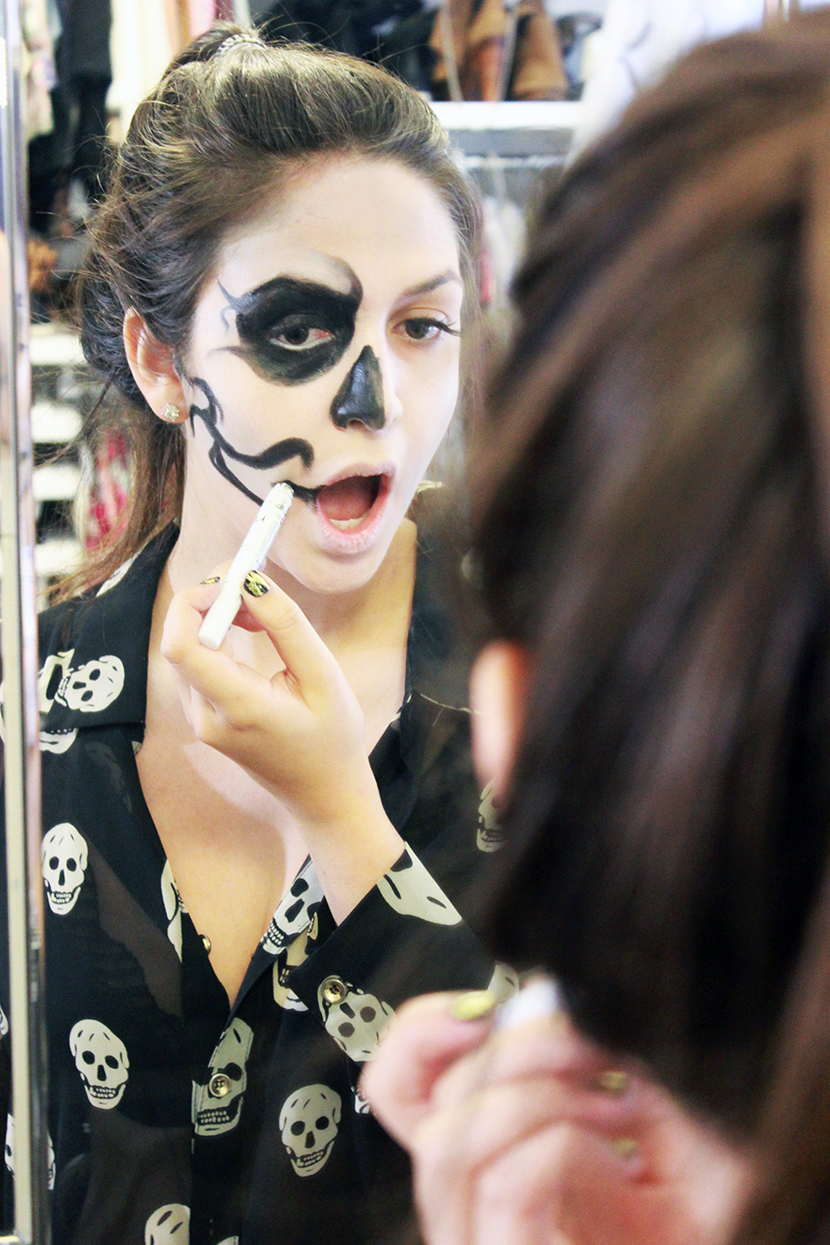 crayons, 1 thin white eyeliner crayon, 1 black liquid eyeliner pen, 4 cosmetic sponges, black and white eye shadow, and eye shadow/eyeliner brushes. (I found all my supplies at Ricky's NYC for cheap but you can probably find this at your local pharmacy!)
Paint your face and neck/chest moderately white with white face paint and cosmetic sponge
Contour your forehead, temples, and cheekbones by mixing in some white and a little black face paint together with a sponge.
Then start by drawing the circles around your eyes. Follow your eyebrow shape for the circle around the top of your eye.
To create the wings on the sides and the angry eyebrow look, use a clean eyeliner brush and just push out the face paint with that to create the natural fade effect. Feel free to add a little bit of paint to the brush to make it more dramatic.
Then do your nose. You can go ahead and do all of it but it helped me to draw a line down the middle to create the V at the top of the nose. Fill it in black
Don't forget to add some crack lines along your hairline! Just fill in your hair line with black and then just how you did with the eye wings, just use a brush to smudge some down your forehead.
Then here's the tricky part…. Is getting all the squiggles and such perfect along the cheekbone. All I can say is start by drawing a line from the middle ear and follow your cheekbone to the corner of your mouth. And then fill in all the black area around that line… Follow the pattern I did… its hard to explain haha but if you do anything sort of like it, its going to look cool!
To up your game a little, use some black eye shadow and add a little contouring line above all the black cheekbone paint. A little goes a long way here.
Then for the fun part! The stitches! Start with the line in the middle of your lips and the work your way out. To create a stitch look, use a liquid liner pen and then just press down hard and lightly let go as you go outwards. As you get to the corners of your lips, make the stitches longer for dramatic effect. Be sure to connect the last two stitches to the black cheekbone paint.
Now for the trachea! I did a short cut obviously… I didn't do all the back of my neck or whatever but it still looks cool. Just outline the trachea in black thick eyeliner crayon and then fill in with black face paint around the outline and use the cosmetic sponge to mix it in. It's ok if you kind of go into your trachea outline because you're about to go back over that with white face paint again. Also, when it's a little messy, I feel like it looks a little spookier J
SO like I said, once you're done with the black on the neck and chest, go back with a sponge and white face paint and fill in the trachea and the ribs.
To create a more 3D look, use black eye shadow to outline the trachea and rub bones.
To add further effect… you can draw some hand bones on your hands or kneecaps on your knees!
YAY YOU'RE DONE!!!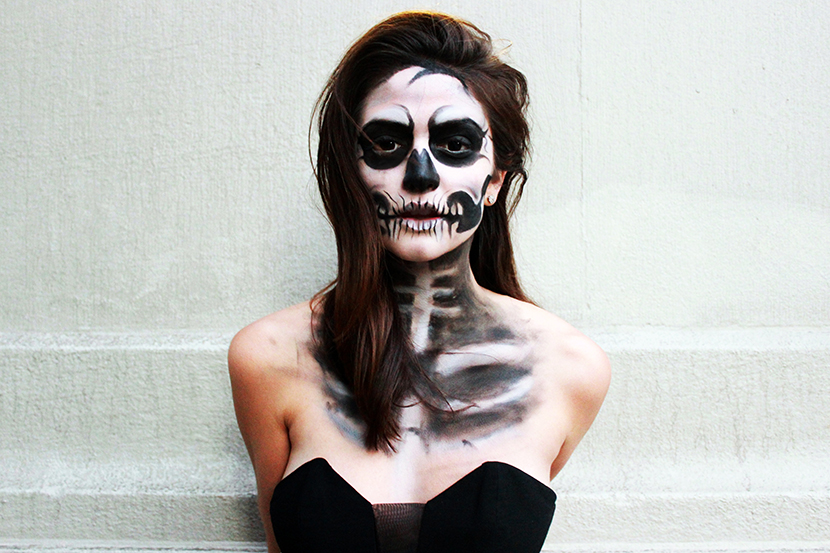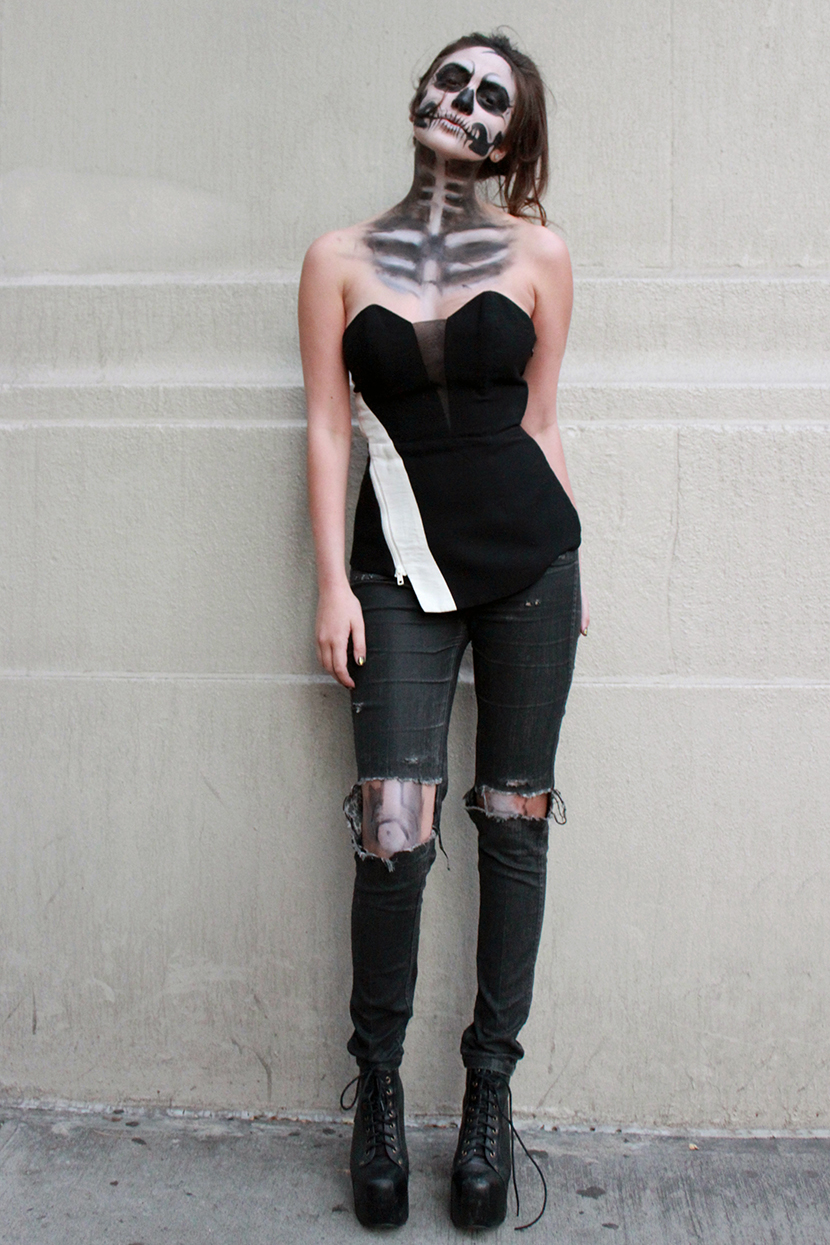 Check out the final product below!
Make up: Myself
Photography: Sofia Dieck
Nails: Gracie J from Paintbox @theeditorialnail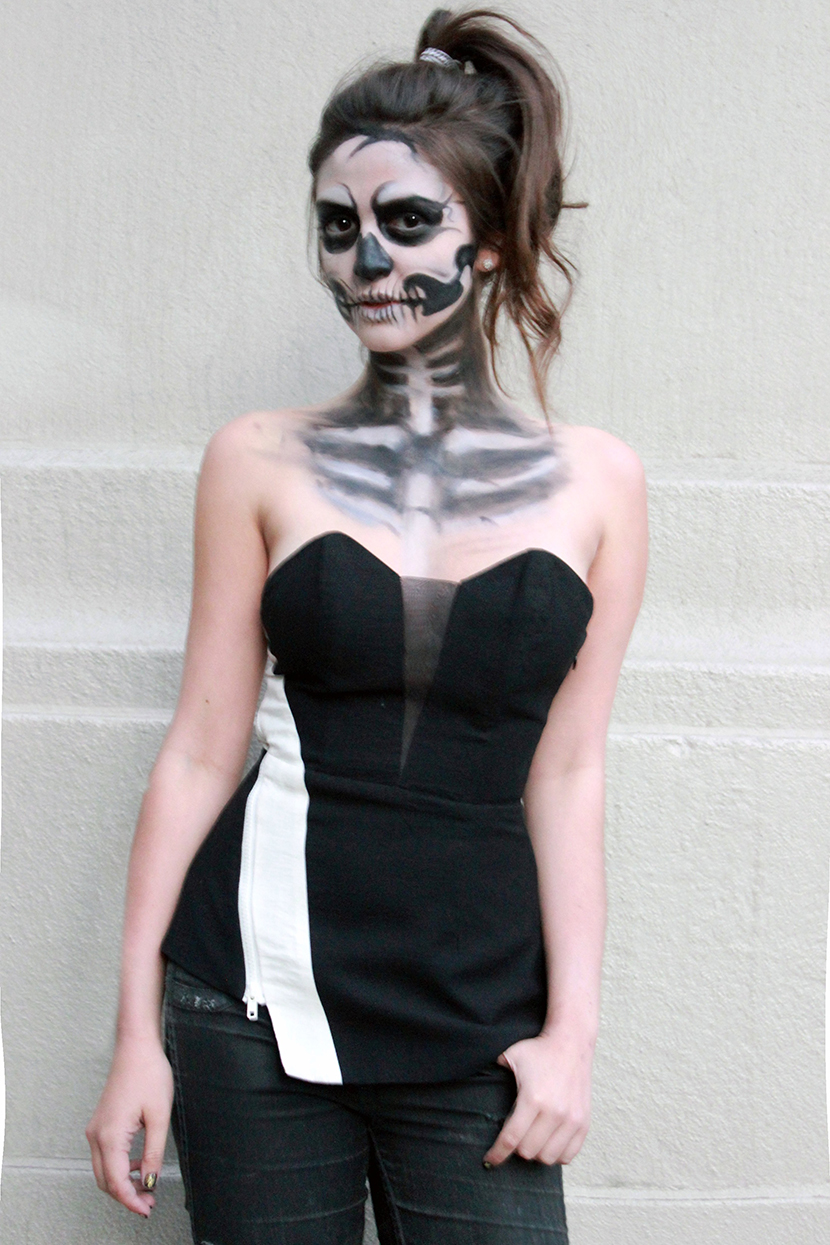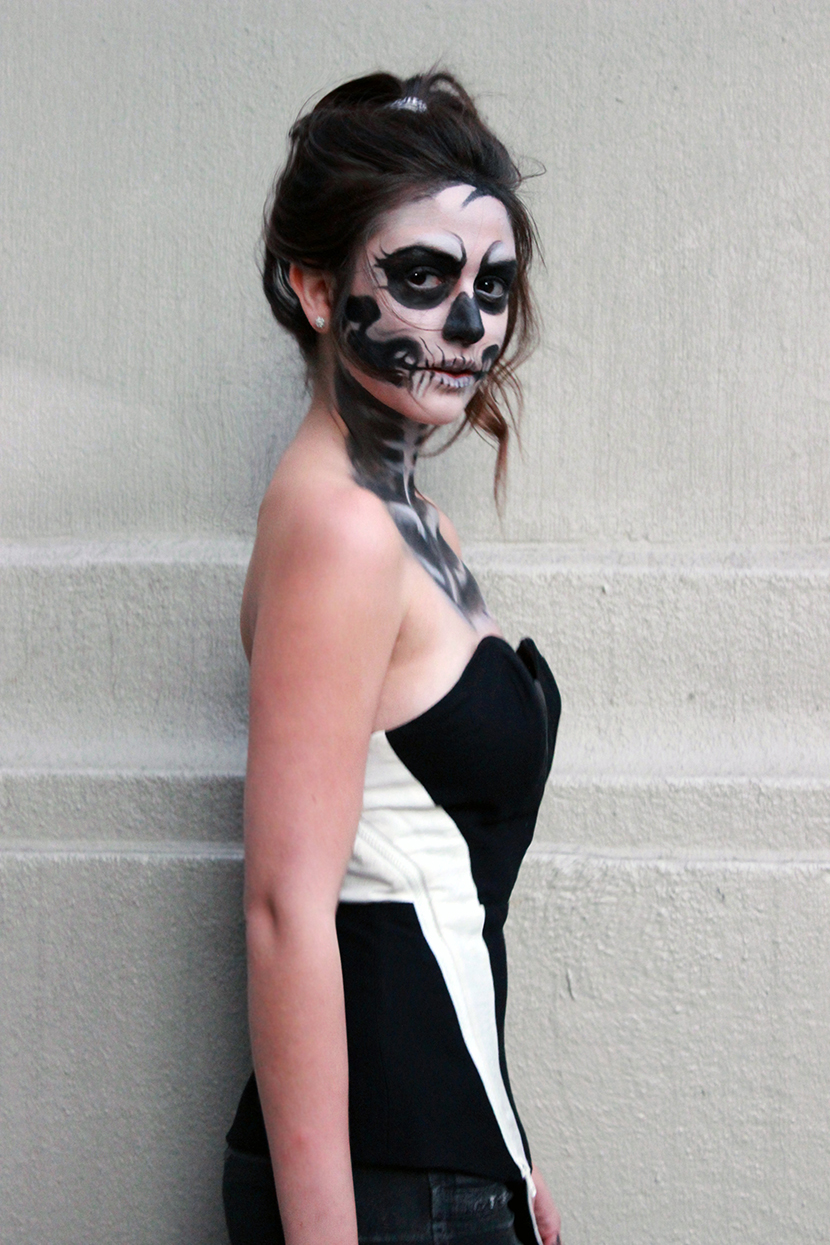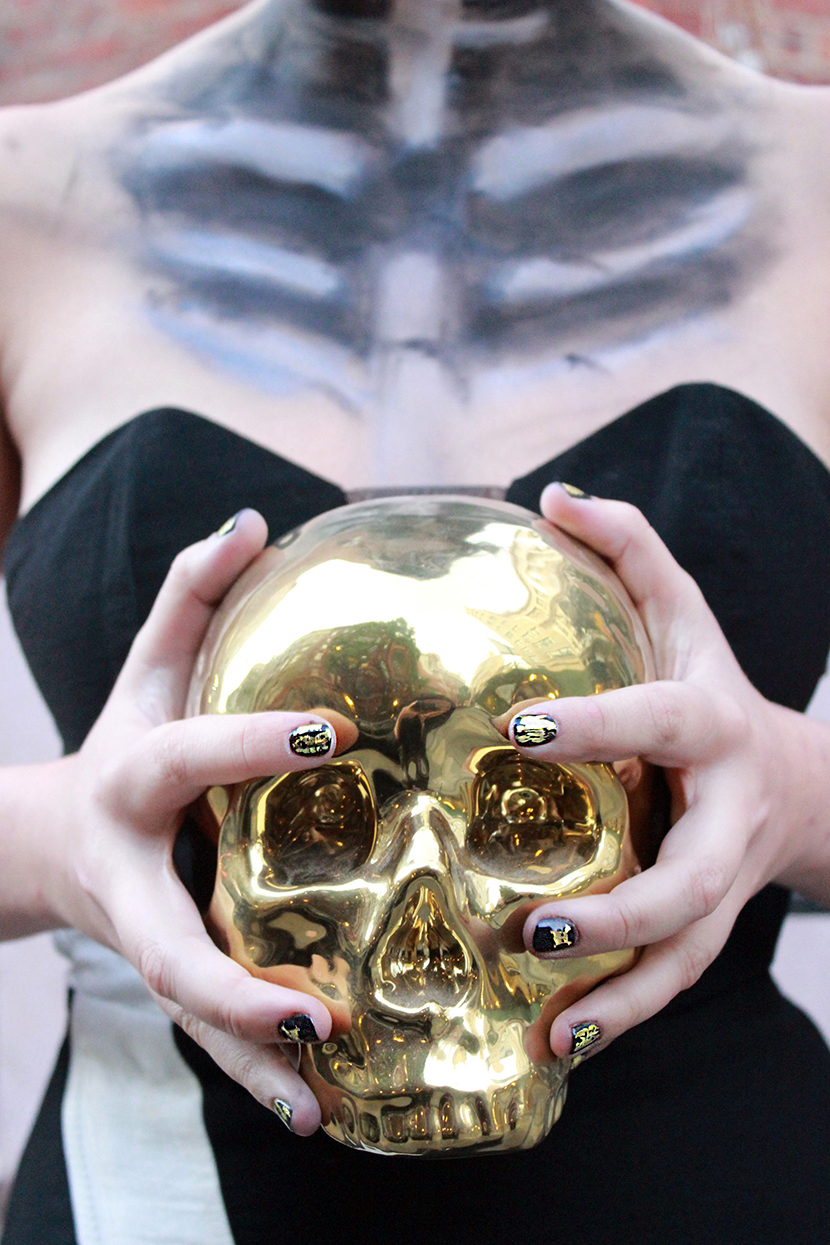 SHOP THE LOOK at the end of the post!

Notice
: Undefined index: widget_max_width in
/var/www/wp-content/plugins/shopbop-widget/lib/CoreWidgetPublic.php
on line
101
Notice
: Object of class WP_Error could not be converted to int in
/var/www/wp-content/plugins/shopbop-widget/lib/CoreCategories.php
on line
795
Notice
: Function wpdb::prepare was called
incorrectly
. Unsupported value type (object). Please see
Debugging in WordPress
for more information. (This message was added in version 4.8.2.) in
/var/www/wp-includes/functions.php
on line
5905
Warning
: explode() expects parameter 2 to be string, object given in
/var/www/wp-content/plugins/shopbop-widget/lib/CoreCategories.php
on line
807
Notice
: Object of class WP_Error could not be converted to int in
/var/www/wp-content/plugins/shopbop-widget/lib/CoreCategories.php
on line
795
Notice
: Function wpdb::prepare was called
incorrectly
. Unsupported value type (object). Please see
Debugging in WordPress
for more information. (This message was added in version 4.8.2.) in
/var/www/wp-includes/functions.php
on line
5905
Warning
: explode() expects parameter 2 to be string, object given in
/var/www/wp-content/plugins/shopbop-widget/lib/CoreCategories.php
on line
807
Notice
: Object of class WP_Error could not be converted to int in
/var/www/wp-content/plugins/shopbop-widget/lib/CoreCategories.php
on line
795
Notice
: Function wpdb::prepare was called
incorrectly
. Unsupported value type (object). Please see
Debugging in WordPress
for more information. (This message was added in version 4.8.2.) in
/var/www/wp-includes/functions.php
on line
5905
Warning
: explode() expects parameter 2 to be string, object given in
/var/www/wp-content/plugins/shopbop-widget/lib/CoreCategories.php
on line
807
Notice
: Object of class WP_Error could not be converted to int in
/var/www/wp-content/plugins/shopbop-widget/lib/CoreCategories.php
on line
795
Notice
: Function wpdb::prepare was called
incorrectly
. Unsupported value type (object). Please see
Debugging in WordPress
for more information. (This message was added in version 4.8.2.) in
/var/www/wp-includes/functions.php
on line
5905
Warning
: explode() expects parameter 2 to be string, object given in
/var/www/wp-content/plugins/shopbop-widget/lib/CoreCategories.php
on line
807
Notice
: Trying to access array offset on value of type null in
/var/www/wp-content/plugins/shopbop-widget/vendor/mustache/mustache/src/Mustache/Parser.php
on line
278
Notice
: Trying to access array offset on value of type null in
/var/www/wp-content/plugins/shopbop-widget/vendor/mustache/mustache/src/Mustache/Parser.php
on line
278
Notice
: Trying to access array offset on value of type null in
/var/www/wp-content/plugins/shopbop-widget/vendor/mustache/mustache/src/Mustache/Parser.php
on line
278
Notice
: Trying to access array offset on value of type null in
/var/www/wp-content/plugins/shopbop-widget/vendor/mustache/mustache/src/Mustache/Parser.php
on line
278
Notice
: Trying to access array offset on value of type null in
/var/www/wp-content/plugins/shopbop-widget/vendor/mustache/mustache/src/Mustache/Parser.php
on line
278
Notice
: Trying to access array offset on value of type null in
/var/www/wp-content/plugins/shopbop-widget/vendor/mustache/mustache/src/Mustache/Parser.php
on line
278
Notice
: Trying to access array offset on value of type null in
/var/www/wp-content/plugins/shopbop-widget/vendor/mustache/mustache/src/Mustache/Parser.php
on line
278
Notice
: Trying to access array offset on value of type null in
/var/www/wp-content/plugins/shopbop-widget/vendor/mustache/mustache/src/Mustache/Parser.php
on line
278
Notice
: Trying to access array offset on value of type null in
/var/www/wp-content/plugins/shopbop-widget/vendor/mustache/mustache/src/Mustache/Parser.php
on line
278
Notice
: Trying to access array offset on value of type null in
/var/www/wp-content/plugins/shopbop-widget/vendor/mustache/mustache/src/Mustache/Parser.php
on line
278
Notice
: Trying to access array offset on value of type null in
/var/www/wp-content/plugins/shopbop-widget/vendor/mustache/mustache/src/Mustache/Parser.php
on line
278
Notice
: Trying to access array offset on value of type null in
/var/www/wp-content/plugins/shopbop-widget/vendor/mustache/mustache/src/Mustache/Parser.php
on line
278
Notice
: Trying to access array offset on value of type null in
/var/www/wp-content/plugins/shopbop-widget/vendor/mustache/mustache/src/Mustache/Parser.php
on line
278
Notice
: Trying to access array offset on value of type null in
/var/www/wp-content/plugins/shopbop-widget/vendor/mustache/mustache/src/Mustache/Parser.php
on line
278
Notice
: Trying to access array offset on value of type null in
/var/www/wp-content/plugins/shopbop-widget/vendor/mustache/mustache/src/Mustache/Parser.php
on line
278
Notice
: Trying to access array offset on value of type null in
/var/www/wp-content/plugins/shopbop-widget/vendor/mustache/mustache/src/Mustache/Parser.php
on line
278
Notice
: Trying to access array offset on value of type null in
/var/www/wp-content/plugins/shopbop-widget/vendor/mustache/mustache/src/Mustache/Parser.php
on line
278
JUST ARRIVED

<
>
Minnetonka Front Lace Knee High Boots
<
>
Recent Posts