Naeem Khan is one of my favorite shows to go to because, although our time was very brief together, I did have the honor of meeting him in the summer of 2013.  Let me just tell you — he is one of the kindest, most genuine, and passionate people I have ever met. Yes, I could tell this from the 1-hour I spent talking and listening to him.  I'll never forget going into his studio and feeling an overwhelming calmness radiating from him and his environment.  Everyone seemed so tranquil and it was so clean and organized.  The whole studio is made of dark wood with modern couches and plush pillows in the middle of the entry hall.  That's where we sat and listened to his journey through the fashion industry. But enough about MY experience with him and back to HIS amazing fall/winter collection.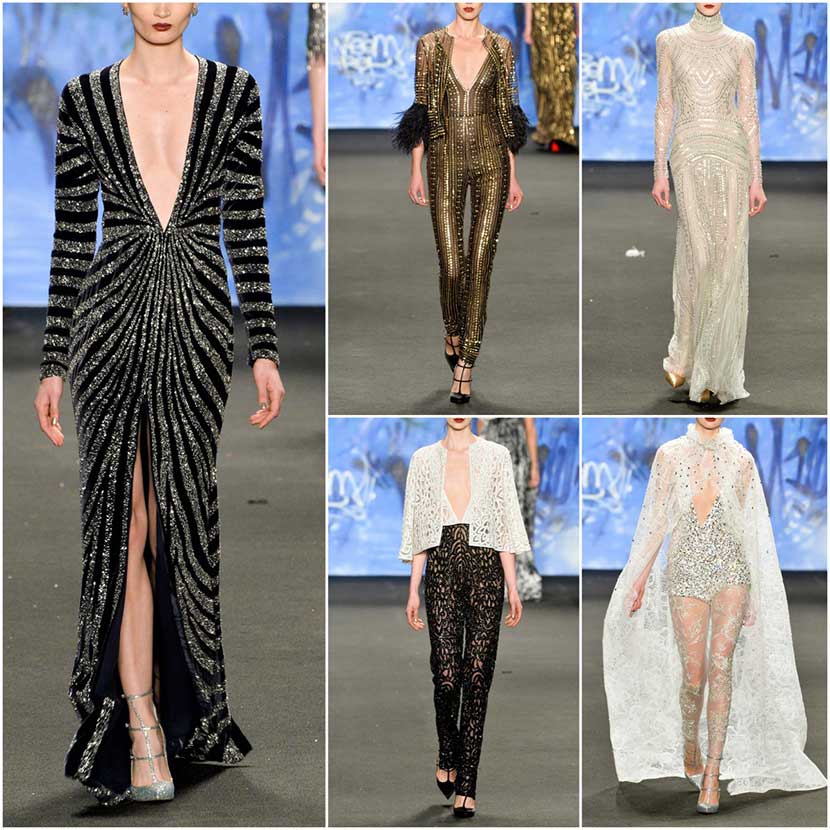 If you are not familiar with Naeem Khan then you need to get to know him ASAP.  You often see his dresses on the red carpet worn by some of Hollywood's biggest celebrities and in the Christmas windows of Bergdorf's. You have also seen his designs in Taylor Swift's Blank Space video— this romper was my favorite out of all 21 outfit changes 😉  He is most known for his intricate embroidery and detailing.  This collection made it clear to me that he would be the first designer I would go to should I ever be in need of a dress for a red carpet event, or one day a wedding gown. 
This collection opened with a series of dresses covered in gold grommets and studs, then followed by some flowy silk chiffon looks and then dresses that resembled Balmain's baroque aesthetic. Balmain is one of my favorite designers but these looks from Naeem did not make my top 5 because they were more conservative than anything I would typically wear.  Anyway, my absolute favorite looks were the deep V necklines and transparent dresses.  I know they're a bit scandalous but I feel like with a gown it's more acceptable since you're already mostly covered up.  I really enjoyed the pantsuits because I feel like I can see Emma Stone rocking them on the red carpet and everyone falling in love with it and her all over again–although I would wear the black and white suit without the cape.  This collection was a bit more formal than his previous ones, but I think that's what he should mainly stick to because that's what I anticipate and love most to see from him.  I can't wait to see what stars choose from his collections to wear on future red carpets to come! I always enjoy watching Naeem's brilliant pieces shine down the runway and this show hit the nail on the head! Bravo, Naeem– I hope our paths cross again soon!
Trend Alerts: More feather trimmings, grommets, and formal pant suits!
Can't wait until the fall to shop these trends/looks? Check out my look book below to get similar pieces now!
Photos taken by Style.com

Shop The Look

Notice
: Undefined index: widget_max_width in
/var/www/wp-content/plugins/shopbop-widget/lib/CoreWidgetPublic.php
on line
101
Notice
: Object of class WP_Error could not be converted to int in
/var/www/wp-content/plugins/shopbop-widget/lib/CoreCategories.php
on line
795
Notice
: Function wpdb::prepare was called
incorrectly
. Unsupported value type (object). Please see
Debugging in WordPress
for more information. (This message was added in version 4.8.2.) in
/var/www/wp-includes/functions.php
on line
5905
Warning
: explode() expects parameter 2 to be string, object given in
/var/www/wp-content/plugins/shopbop-widget/lib/CoreCategories.php
on line
807
Notice
: Object of class WP_Error could not be converted to int in
/var/www/wp-content/plugins/shopbop-widget/lib/CoreCategories.php
on line
795
Notice
: Function wpdb::prepare was called
incorrectly
. Unsupported value type (object). Please see
Debugging in WordPress
for more information. (This message was added in version 4.8.2.) in
/var/www/wp-includes/functions.php
on line
5905
Warning
: explode() expects parameter 2 to be string, object given in
/var/www/wp-content/plugins/shopbop-widget/lib/CoreCategories.php
on line
807
Notice
: Object of class WP_Error could not be converted to int in
/var/www/wp-content/plugins/shopbop-widget/lib/CoreCategories.php
on line
795
Notice
: Function wpdb::prepare was called
incorrectly
. Unsupported value type (object). Please see
Debugging in WordPress
for more information. (This message was added in version 4.8.2.) in
/var/www/wp-includes/functions.php
on line
5905
Warning
: explode() expects parameter 2 to be string, object given in
/var/www/wp-content/plugins/shopbop-widget/lib/CoreCategories.php
on line
807
Notice
: Object of class WP_Error could not be converted to int in
/var/www/wp-content/plugins/shopbop-widget/lib/CoreCategories.php
on line
795
Notice
: Function wpdb::prepare was called
incorrectly
. Unsupported value type (object). Please see
Debugging in WordPress
for more information. (This message was added in version 4.8.2.) in
/var/www/wp-includes/functions.php
on line
5905
Warning
: explode() expects parameter 2 to be string, object given in
/var/www/wp-content/plugins/shopbop-widget/lib/CoreCategories.php
on line
807
Notice
: Trying to access array offset on value of type null in
/var/www/wp-content/plugins/shopbop-widget/vendor/mustache/mustache/src/Mustache/Parser.php
on line
278
Notice
: Trying to access array offset on value of type null in
/var/www/wp-content/plugins/shopbop-widget/vendor/mustache/mustache/src/Mustache/Parser.php
on line
278
Notice
: Trying to access array offset on value of type null in
/var/www/wp-content/plugins/shopbop-widget/vendor/mustache/mustache/src/Mustache/Parser.php
on line
278
Notice
: Trying to access array offset on value of type null in
/var/www/wp-content/plugins/shopbop-widget/vendor/mustache/mustache/src/Mustache/Parser.php
on line
278
Notice
: Trying to access array offset on value of type null in
/var/www/wp-content/plugins/shopbop-widget/vendor/mustache/mustache/src/Mustache/Parser.php
on line
278
Notice
: Trying to access array offset on value of type null in
/var/www/wp-content/plugins/shopbop-widget/vendor/mustache/mustache/src/Mustache/Parser.php
on line
278
Notice
: Trying to access array offset on value of type null in
/var/www/wp-content/plugins/shopbop-widget/vendor/mustache/mustache/src/Mustache/Parser.php
on line
278
Notice
: Trying to access array offset on value of type null in
/var/www/wp-content/plugins/shopbop-widget/vendor/mustache/mustache/src/Mustache/Parser.php
on line
278
Notice
: Trying to access array offset on value of type null in
/var/www/wp-content/plugins/shopbop-widget/vendor/mustache/mustache/src/Mustache/Parser.php
on line
278
Notice
: Trying to access array offset on value of type null in
/var/www/wp-content/plugins/shopbop-widget/vendor/mustache/mustache/src/Mustache/Parser.php
on line
278
Notice
: Trying to access array offset on value of type null in
/var/www/wp-content/plugins/shopbop-widget/vendor/mustache/mustache/src/Mustache/Parser.php
on line
278
Notice
: Trying to access array offset on value of type null in
/var/www/wp-content/plugins/shopbop-widget/vendor/mustache/mustache/src/Mustache/Parser.php
on line
278
Notice
: Trying to access array offset on value of type null in
/var/www/wp-content/plugins/shopbop-widget/vendor/mustache/mustache/src/Mustache/Parser.php
on line
278
Notice
: Trying to access array offset on value of type null in
/var/www/wp-content/plugins/shopbop-widget/vendor/mustache/mustache/src/Mustache/Parser.php
on line
278
Notice
: Trying to access array offset on value of type null in
/var/www/wp-content/plugins/shopbop-widget/vendor/mustache/mustache/src/Mustache/Parser.php
on line
278
Notice
: Trying to access array offset on value of type null in
/var/www/wp-content/plugins/shopbop-widget/vendor/mustache/mustache/src/Mustache/Parser.php
on line
278
Notice
: Trying to access array offset on value of type null in
/var/www/wp-content/plugins/shopbop-widget/vendor/mustache/mustache/src/Mustache/Parser.php
on line
278
JUST ARRIVED
Buy Debra Jacket from Stella Nova

7 For All Mankind Easy Boot Cut Jeans
<
>
Shop Chloe Esther Sunglasses
<
>
Recent Posts