September in NYC at the Naeem Khan SS15 show at NYFW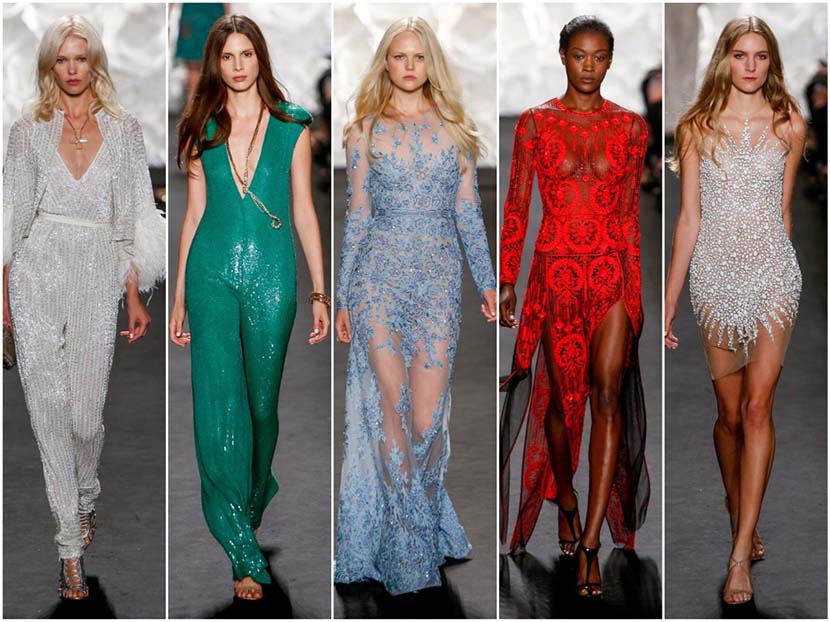 Ok well first of all… how cool was it that MY name was on my chair at the Naeem Khan show? It just made the whole show and experience so much more personal and special. Also what made this show extra special is that I have actually had the honor to meet Naeem himself! I met him last summer on the UT in NYC trip with Iris Apfel. He is such big inspiration and the loveliest man.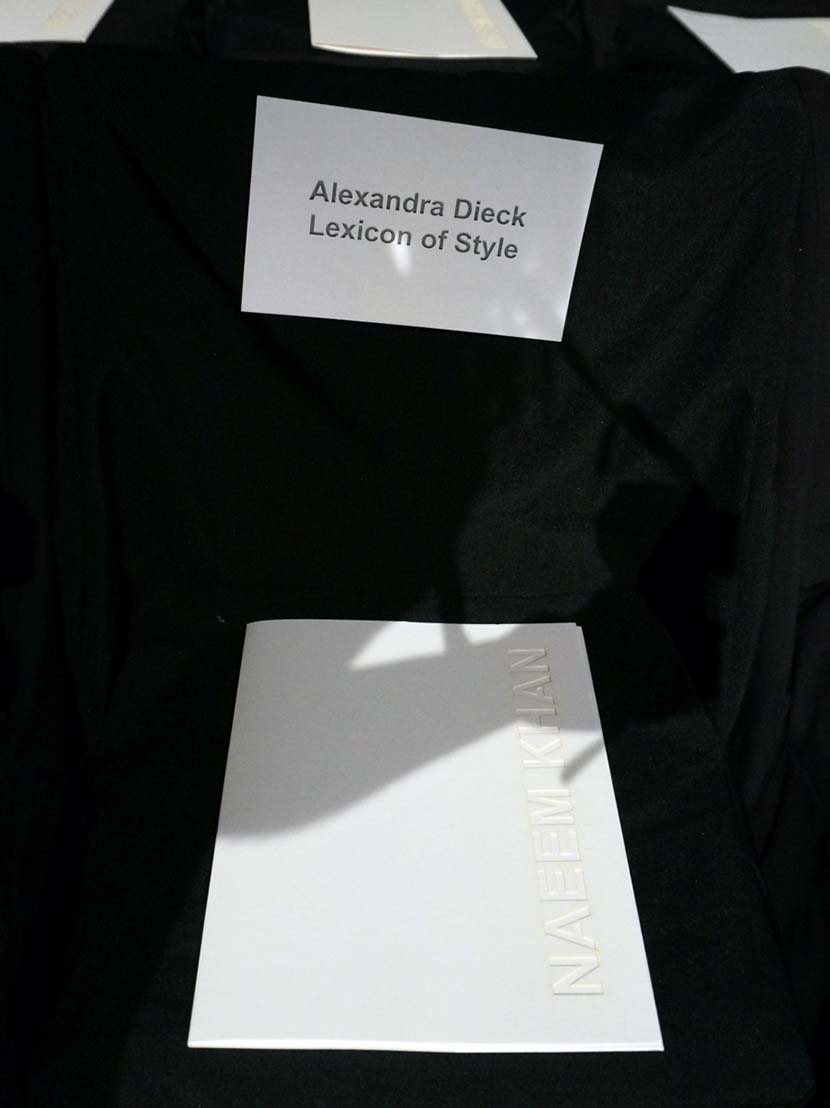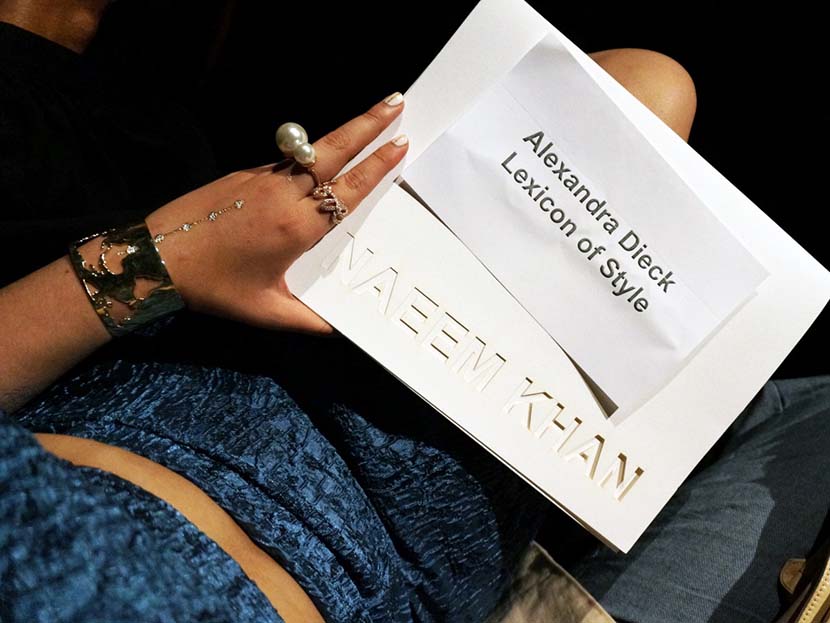 Well about the show and the clothes… Naeem never seizes to impress. He is mostly known for his red carpet pieces. Whenever I look through his collections I think about which dress I would wear to the Oscars or the Grammy's if I were some sort of superstar haha. But as many of you know, sporty chic has been super in style and trendy and not even Naeem could resist to steer that way some. His first few pieces that came out on the catwalk were the most elegant bedazzled track suits and sweat shirts I have ever seen! As we see the transition from the sporty wear to the more evening looks I couldn't help but notice the bohemian touch to the dresses. He usually designs very classic, elegant, and glamorous gowns. Not to say these dresses/jumpsuits weren't elegant and glamorous but they had a boho vibe that I felt like I saw in the movie Almost Famous. Although I did love the boho dresses I was more into the white and sheer dresses. I loved the whole collection! Bravo Naeem!
TREND ALERT: Sporty chic and embroidered sweatshirts! Also emerald green!
SHOP THE LOOK

Notice
: Undefined index: widget_max_width in
/var/www/wp-content/plugins/shopbop-widget/lib/CoreWidgetPublic.php
on line
101
Notice
: Object of class WP_Error could not be converted to int in
/var/www/wp-content/plugins/shopbop-widget/lib/CoreCategories.php
on line
795
Notice
: Function wpdb::prepare was called
incorrectly
. Unsupported value type (object). Please see
Debugging in WordPress
for more information. (This message was added in version 4.8.2.) in
/var/www/wp-includes/functions.php
on line
5905
Warning
: explode() expects parameter 2 to be string, object given in
/var/www/wp-content/plugins/shopbop-widget/lib/CoreCategories.php
on line
807
Notice
: Object of class WP_Error could not be converted to int in
/var/www/wp-content/plugins/shopbop-widget/lib/CoreCategories.php
on line
795
Notice
: Function wpdb::prepare was called
incorrectly
. Unsupported value type (object). Please see
Debugging in WordPress
for more information. (This message was added in version 4.8.2.) in
/var/www/wp-includes/functions.php
on line
5905
Warning
: explode() expects parameter 2 to be string, object given in
/var/www/wp-content/plugins/shopbop-widget/lib/CoreCategories.php
on line
807
Notice
: Object of class WP_Error could not be converted to int in
/var/www/wp-content/plugins/shopbop-widget/lib/CoreCategories.php
on line
795
Notice
: Function wpdb::prepare was called
incorrectly
. Unsupported value type (object). Please see
Debugging in WordPress
for more information. (This message was added in version 4.8.2.) in
/var/www/wp-includes/functions.php
on line
5905
Warning
: explode() expects parameter 2 to be string, object given in
/var/www/wp-content/plugins/shopbop-widget/lib/CoreCategories.php
on line
807
Notice
: Object of class WP_Error could not be converted to int in
/var/www/wp-content/plugins/shopbop-widget/lib/CoreCategories.php
on line
795
Notice
: Function wpdb::prepare was called
incorrectly
. Unsupported value type (object). Please see
Debugging in WordPress
for more information. (This message was added in version 4.8.2.) in
/var/www/wp-includes/functions.php
on line
5905
Warning
: explode() expects parameter 2 to be string, object given in
/var/www/wp-content/plugins/shopbop-widget/lib/CoreCategories.php
on line
807
Notice
: Trying to access array offset on value of type null in
/var/www/wp-content/plugins/shopbop-widget/vendor/mustache/mustache/src/Mustache/Parser.php
on line
278
Notice
: Trying to access array offset on value of type null in
/var/www/wp-content/plugins/shopbop-widget/vendor/mustache/mustache/src/Mustache/Parser.php
on line
278
Notice
: Trying to access array offset on value of type null in
/var/www/wp-content/plugins/shopbop-widget/vendor/mustache/mustache/src/Mustache/Parser.php
on line
278
Notice
: Trying to access array offset on value of type null in
/var/www/wp-content/plugins/shopbop-widget/vendor/mustache/mustache/src/Mustache/Parser.php
on line
278
Notice
: Trying to access array offset on value of type null in
/var/www/wp-content/plugins/shopbop-widget/vendor/mustache/mustache/src/Mustache/Parser.php
on line
278
Notice
: Trying to access array offset on value of type null in
/var/www/wp-content/plugins/shopbop-widget/vendor/mustache/mustache/src/Mustache/Parser.php
on line
278
Notice
: Trying to access array offset on value of type null in
/var/www/wp-content/plugins/shopbop-widget/vendor/mustache/mustache/src/Mustache/Parser.php
on line
278
Notice
: Trying to access array offset on value of type null in
/var/www/wp-content/plugins/shopbop-widget/vendor/mustache/mustache/src/Mustache/Parser.php
on line
278
Notice
: Trying to access array offset on value of type null in
/var/www/wp-content/plugins/shopbop-widget/vendor/mustache/mustache/src/Mustache/Parser.php
on line
278
Notice
: Trying to access array offset on value of type null in
/var/www/wp-content/plugins/shopbop-widget/vendor/mustache/mustache/src/Mustache/Parser.php
on line
278
Notice
: Trying to access array offset on value of type null in
/var/www/wp-content/plugins/shopbop-widget/vendor/mustache/mustache/src/Mustache/Parser.php
on line
278
Notice
: Trying to access array offset on value of type null in
/var/www/wp-content/plugins/shopbop-widget/vendor/mustache/mustache/src/Mustache/Parser.php
on line
278
Notice
: Trying to access array offset on value of type null in
/var/www/wp-content/plugins/shopbop-widget/vendor/mustache/mustache/src/Mustache/Parser.php
on line
278
Notice
: Trying to access array offset on value of type null in
/var/www/wp-content/plugins/shopbop-widget/vendor/mustache/mustache/src/Mustache/Parser.php
on line
278
Notice
: Trying to access array offset on value of type null in
/var/www/wp-content/plugins/shopbop-widget/vendor/mustache/mustache/src/Mustache/Parser.php
on line
278
Notice
: Trying to access array offset on value of type null in
/var/www/wp-content/plugins/shopbop-widget/vendor/mustache/mustache/src/Mustache/Parser.php
on line
278
Notice
: Trying to access array offset on value of type null in
/var/www/wp-content/plugins/shopbop-widget/vendor/mustache/mustache/src/Mustache/Parser.php
on line
278
JUST ARRIVED
WAYF Avalon Puff Sleeve Bustier
<
>
3 Layer Fringe Boots by Minnetonka
<
>
Prada Sporty Rectangular Sunglasses
<
>
Recent Posts