Well, I usually chose not to write in my posts but I have to tell you about my first NYFW experience so I am going to start writing from here on out. I just moved to New York about two weeks ago and it has been the most amazing experience ever. I arrived just in time for fashion week but unfortunately I did not register in time for the shows. So instead I decided I would go out in the freezing cold to the tents and cover the street styles of fashion week. I spent the first three days outside of the biggest shows snapping photos of my favorite stylists, bloggers, designers, fashion icons, etc. just like a paparazzi.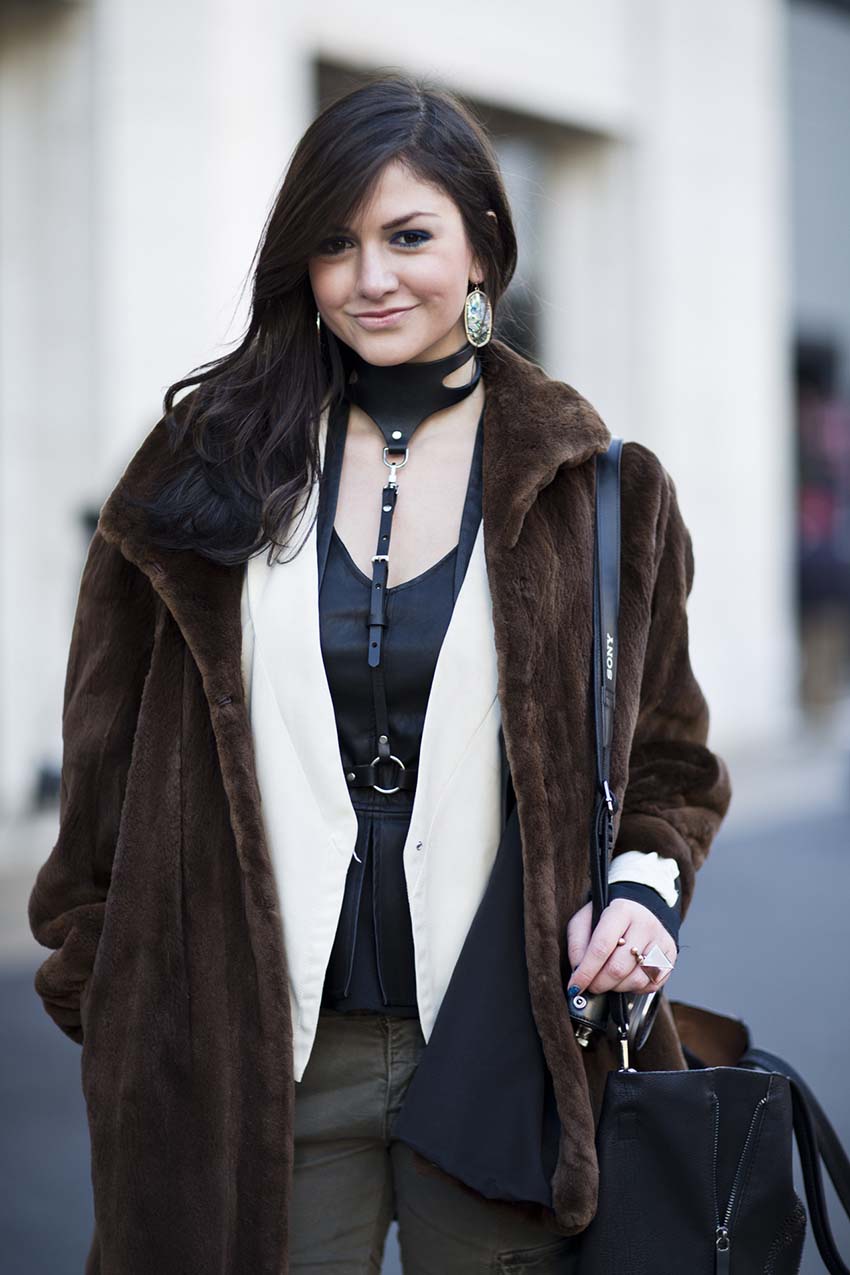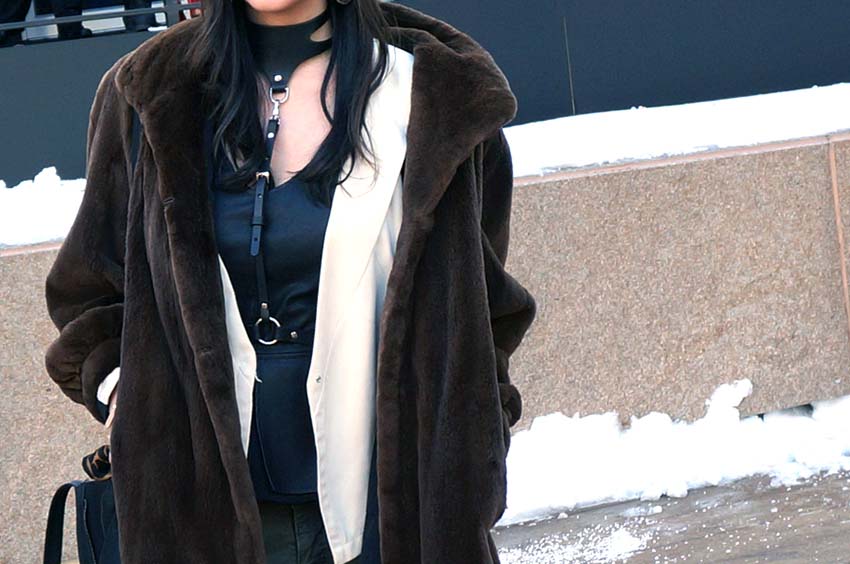 I went dressed everyday as warmly and as fashionably as I could to capture my shots. I was a little uncomfortable the first day and confused about what exactly I was supposed to be doing but then I just started going up to people with cool clothes and asking them for a quick picture and I got the hang of it quickly. I then downloaded the schedule of all the shows so I could keep track where everything was going on because some shows were held at other venues like at Milk Studios, the Post Office, etc. Not only was I taking pictures of people but then the cameras turned around on me and I was getting my pictures taken. This is what eventually led to my invitation into Fashion Week and to the Mercedes-Benz Fashion Week VIP Star Lounge. (I'll go into details later!)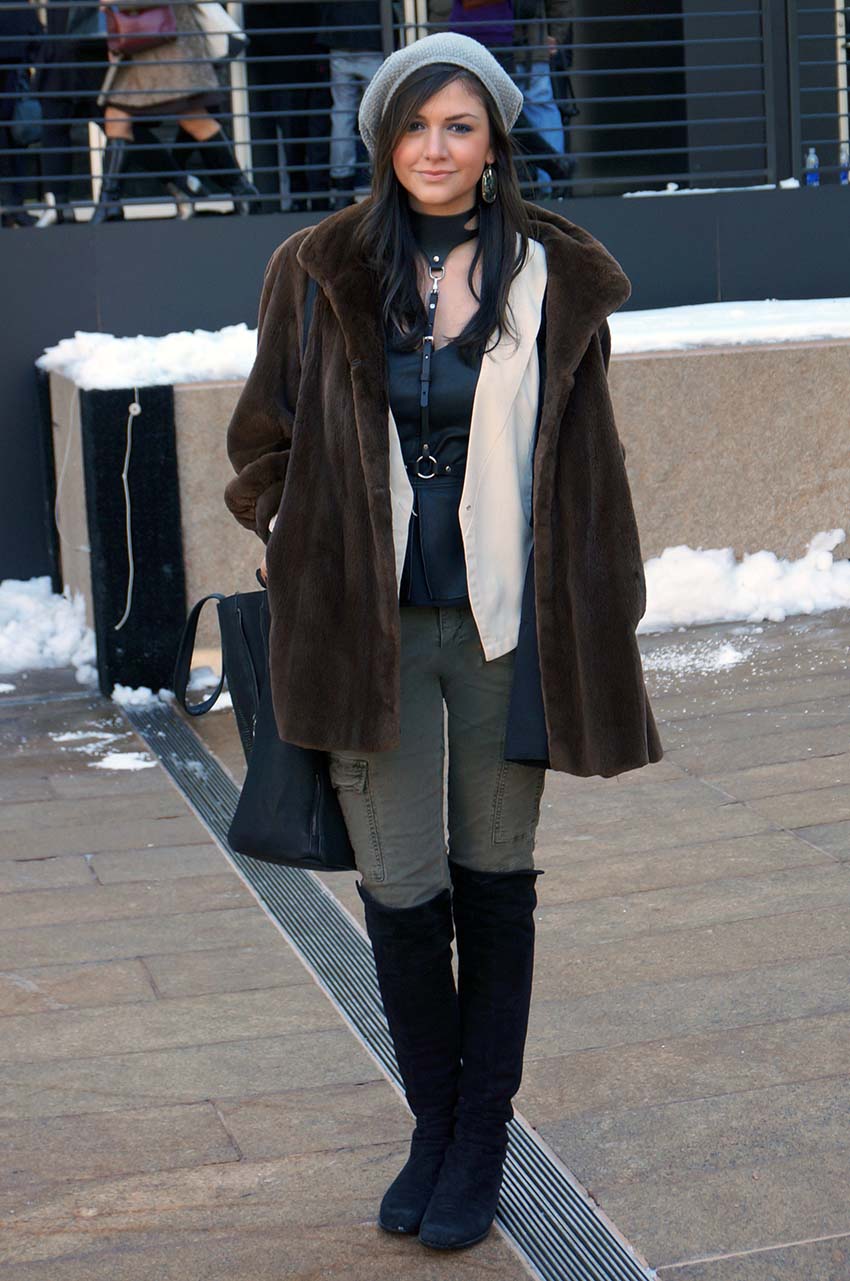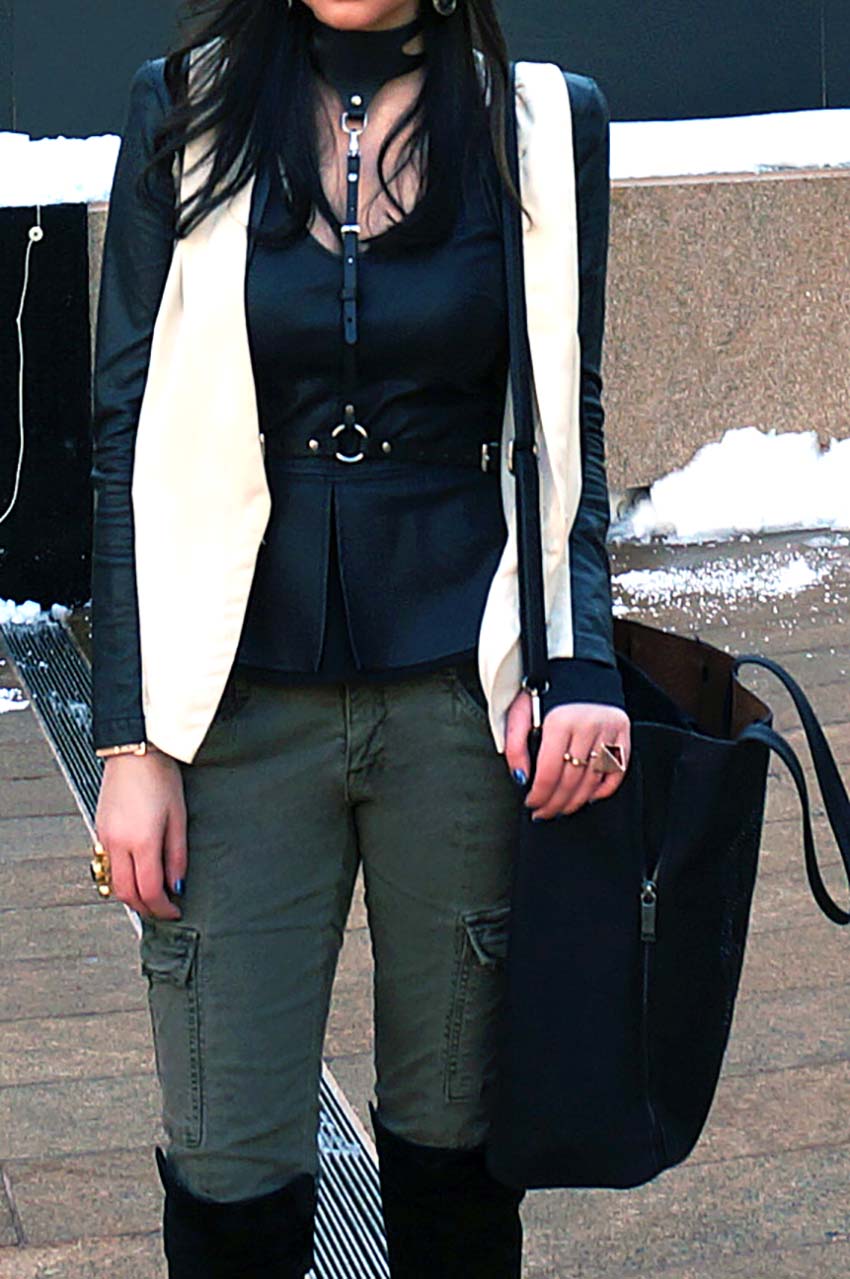 But like I said, I was unsure about what to do or what to wear for the first day of my paparazzi excursions so I wanted to look sleek and edgy while not calling too much attention to myself. I wore my favorite blazer I own, by Gracia NY, with a leather peplum, cargo pants, and to top it off… my new Zana Bayne harness. It's actually a funny story… Right before heading to Lincoln Center I stopped in Opening Ceremony in Soho to just check it out. I was not planning on spending any money nor was I really looking for anything in particular. I feel like thats when you make the best buys. Well, I came across this collection of leather "belts" on the third floor and was immediately intrigued. I thought I HAD to at least try one of these on. Long story short… I tried on the Garter Collar Harness and never took it off. I wore it straight out of the store (after purchasing it of course) to the Lincoln Center. It was the perfect addition to add some edge to my outfit. After being in the Lincoln Plaza for a little bit, I got stopped by a photographer asking me if my harness was Zana Bayne and I was so excited! I had been researching the brand the whole way to the plaza since I bought it. Later I found out that photographer was actually a VERY well known professional photographer here in NYC, Scott Brasher. After day one of wearing the harness, I didn't take it off for the next few days.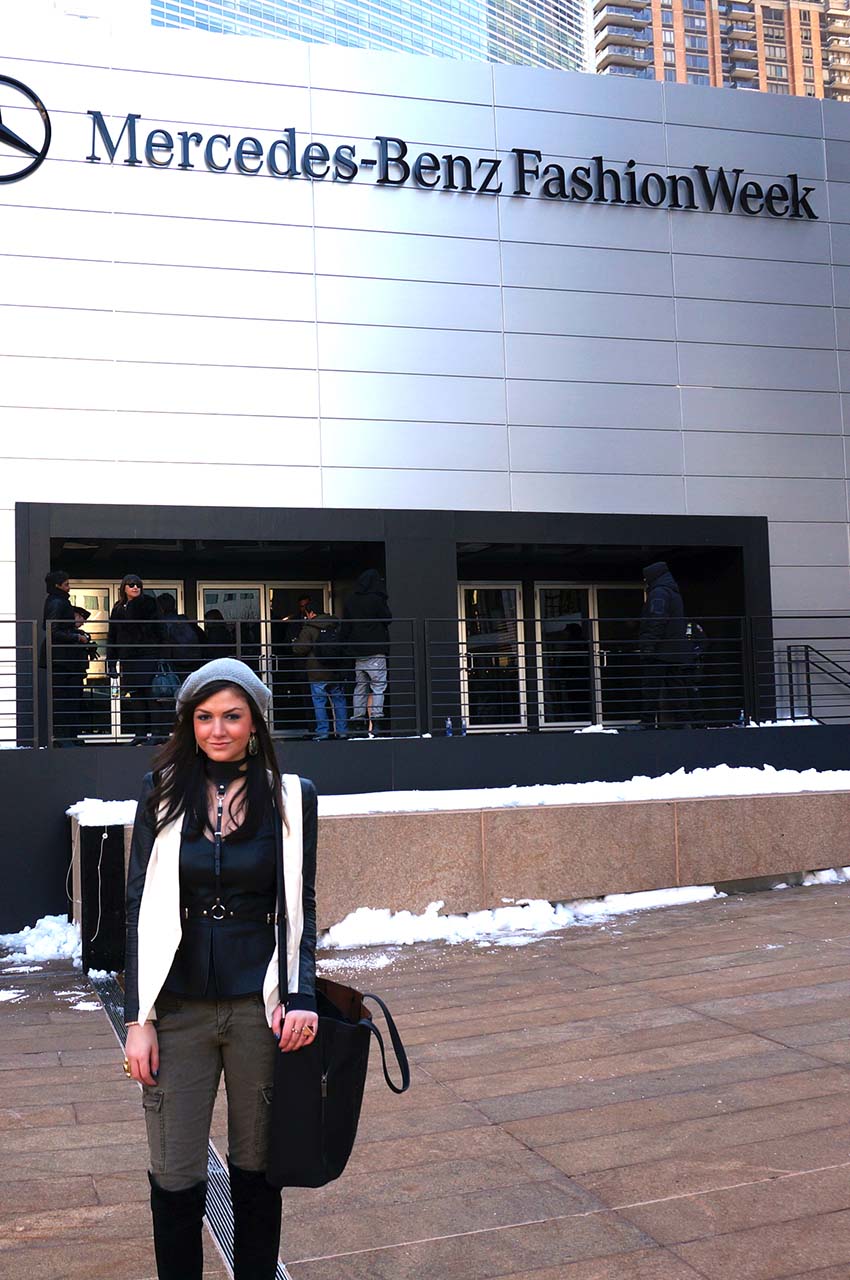 I always wear my Gracia faux leather and silk blazer when I want to feel sexy. Which I want to feel all the time, so I wear it very often. I love how the contrasting colors and materials fall on the body and highlight the slimming parts of the torso. The accentuated shoulders also add great definition making the arms appear slimmer. This blazer may look like a million dollars but surprisingly it is extremely affordable!! You can check out more of their products at the NY boutique Foravi but I purchased mine at Maya Star in Austin, TX.
So I hope you enjoy these next few posts about everyday here at my first New York Fashion Week. It truly was the most amazing experience and I can't wait to tell y'all all about it!
Day 1 NYFW Wearing:
Mink Fur Coat… Vintage but find similar at FarFetch.com
White and black leather blazer… Gracia NY
Leather Harness… Zana Bayne
Faux Leather Peplum… Zara but find similar at BlueFly.com
Army green cargo Pants… J Brand find similar by Rag and Bone at ShopBop
Grey Cashmere beanie… purchased at By George Austin, find similar hat at ASOS.com
Black Suede boots… Stuart Weitzman
Earrings… Kendra Scott
Bag… Skull Bag… bought from Henri Bendel by Kimberley Model
Pyramid ring… Nasty Gal but find similar by Kenneth Jay Lane at 6pm.com
SHOP THE LOOK

Tags: 2014, black leather, cargo pants, fashion week, fur, harness, Look of the Day, mbfwstreetstyle, mbfwstyle, mink, nyfw, nyfw14, ootd, Over the Knee boots, solids, zana bayne
Notice
: Undefined index: widget_max_width in
/var/www/wp-content/plugins/shopbop-widget/lib/CoreWidgetPublic.php
on line
101
Notice
: Object of class WP_Error could not be converted to int in
/var/www/wp-content/plugins/shopbop-widget/lib/CoreCategories.php
on line
795
Notice
: Function wpdb::prepare was called
incorrectly
. Unsupported value type (object). Please see
Debugging in WordPress
for more information. (This message was added in version 4.8.2.) in
/var/www/wp-includes/functions.php
on line
5905
Warning
: explode() expects parameter 2 to be string, object given in
/var/www/wp-content/plugins/shopbop-widget/lib/CoreCategories.php
on line
807
Notice
: Object of class WP_Error could not be converted to int in
/var/www/wp-content/plugins/shopbop-widget/lib/CoreCategories.php
on line
795
Notice
: Function wpdb::prepare was called
incorrectly
. Unsupported value type (object). Please see
Debugging in WordPress
for more information. (This message was added in version 4.8.2.) in
/var/www/wp-includes/functions.php
on line
5905
Warning
: explode() expects parameter 2 to be string, object given in
/var/www/wp-content/plugins/shopbop-widget/lib/CoreCategories.php
on line
807
Notice
: Object of class WP_Error could not be converted to int in
/var/www/wp-content/plugins/shopbop-widget/lib/CoreCategories.php
on line
795
Notice
: Function wpdb::prepare was called
incorrectly
. Unsupported value type (object). Please see
Debugging in WordPress
for more information. (This message was added in version 4.8.2.) in
/var/www/wp-includes/functions.php
on line
5905
Warning
: explode() expects parameter 2 to be string, object given in
/var/www/wp-content/plugins/shopbop-widget/lib/CoreCategories.php
on line
807
Notice
: Object of class WP_Error could not be converted to int in
/var/www/wp-content/plugins/shopbop-widget/lib/CoreCategories.php
on line
795
Notice
: Function wpdb::prepare was called
incorrectly
. Unsupported value type (object). Please see
Debugging in WordPress
for more information. (This message was added in version 4.8.2.) in
/var/www/wp-includes/functions.php
on line
5905
Warning
: explode() expects parameter 2 to be string, object given in
/var/www/wp-content/plugins/shopbop-widget/lib/CoreCategories.php
on line
807
Notice
: Trying to access array offset on value of type null in
/var/www/wp-content/plugins/shopbop-widget/vendor/mustache/mustache/src/Mustache/Parser.php
on line
278
Notice
: Trying to access array offset on value of type null in
/var/www/wp-content/plugins/shopbop-widget/vendor/mustache/mustache/src/Mustache/Parser.php
on line
278
Notice
: Trying to access array offset on value of type null in
/var/www/wp-content/plugins/shopbop-widget/vendor/mustache/mustache/src/Mustache/Parser.php
on line
278
Notice
: Trying to access array offset on value of type null in
/var/www/wp-content/plugins/shopbop-widget/vendor/mustache/mustache/src/Mustache/Parser.php
on line
278
Notice
: Trying to access array offset on value of type null in
/var/www/wp-content/plugins/shopbop-widget/vendor/mustache/mustache/src/Mustache/Parser.php
on line
278
Notice
: Trying to access array offset on value of type null in
/var/www/wp-content/plugins/shopbop-widget/vendor/mustache/mustache/src/Mustache/Parser.php
on line
278
Notice
: Trying to access array offset on value of type null in
/var/www/wp-content/plugins/shopbop-widget/vendor/mustache/mustache/src/Mustache/Parser.php
on line
278
Notice
: Trying to access array offset on value of type null in
/var/www/wp-content/plugins/shopbop-widget/vendor/mustache/mustache/src/Mustache/Parser.php
on line
278
Notice
: Trying to access array offset on value of type null in
/var/www/wp-content/plugins/shopbop-widget/vendor/mustache/mustache/src/Mustache/Parser.php
on line
278
Notice
: Trying to access array offset on value of type null in
/var/www/wp-content/plugins/shopbop-widget/vendor/mustache/mustache/src/Mustache/Parser.php
on line
278
Notice
: Trying to access array offset on value of type null in
/var/www/wp-content/plugins/shopbop-widget/vendor/mustache/mustache/src/Mustache/Parser.php
on line
278
Notice
: Trying to access array offset on value of type null in
/var/www/wp-content/plugins/shopbop-widget/vendor/mustache/mustache/src/Mustache/Parser.php
on line
278
Notice
: Trying to access array offset on value of type null in
/var/www/wp-content/plugins/shopbop-widget/vendor/mustache/mustache/src/Mustache/Parser.php
on line
278
Notice
: Trying to access array offset on value of type null in
/var/www/wp-content/plugins/shopbop-widget/vendor/mustache/mustache/src/Mustache/Parser.php
on line
278
Notice
: Trying to access array offset on value of type null in
/var/www/wp-content/plugins/shopbop-widget/vendor/mustache/mustache/src/Mustache/Parser.php
on line
278
Notice
: Trying to access array offset on value of type null in
/var/www/wp-content/plugins/shopbop-widget/vendor/mustache/mustache/src/Mustache/Parser.php
on line
278
Notice
: Trying to access array offset on value of type null in
/var/www/wp-content/plugins/shopbop-widget/vendor/mustache/mustache/src/Mustache/Parser.php
on line
278
Recent Posts