Nicholas K Fall/Winter 2015 Runway at New York Fashion Week 2015
This season at NYFW I am going to try out blogging about the shows a little bit differently – usually I choose my top 5 looks and share them, along with the photos that I personally took…which means I spend most of the show struggling to get a good shot rather than actually enjoying the moment. However, this time around I decided to leave my big camera at home and let the professionals in the pit handle all of the photography. No longer being saddled down by the stress of trying to capture blog worthy photos, I was able to actually live in the moment at the shows (while still taking notes and live tweeting my favorite parts of each collection).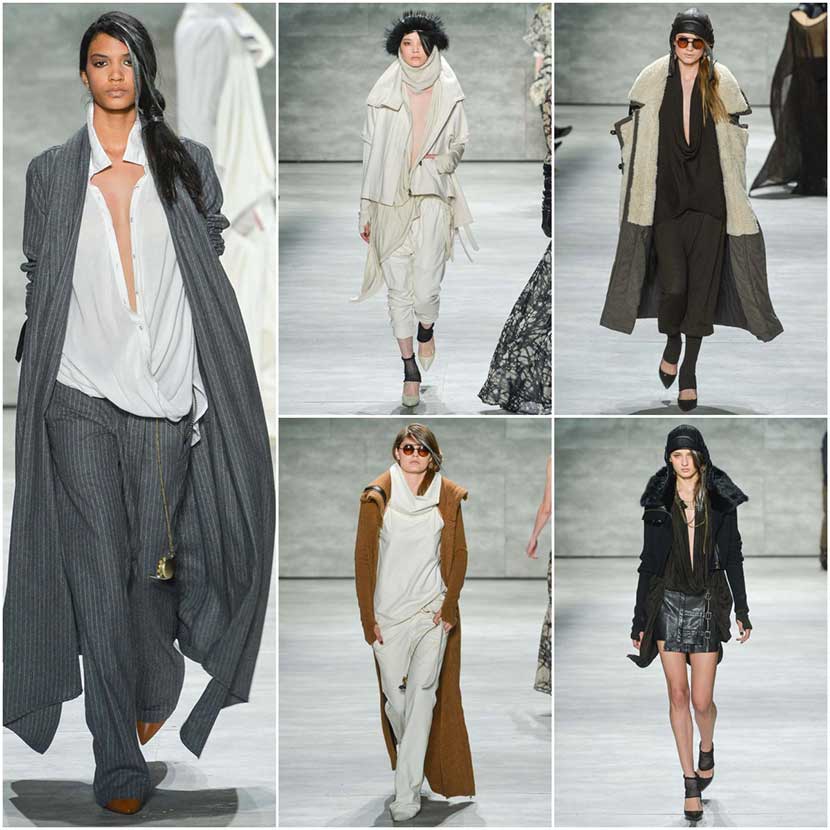 This season I opened fashion week with the fabulous Nicholas K! Just like last season, the collection was filled with neutrals and slight pops of color. This year's pops of colors were deep marsala and burnt sienna with some knits and dip-dyed silk georgette. The overall vibe of this show was very gothic, but the combination of the outfits with aviation headgear left me feeling like the designs were the Wright Bothers meets minimalist business chic—the shearlings and pinstripes had me all googley eyed. I would never think that pinstripes could look so effortless and casual! I loved the silk dyed pieces, however my favorites definitely were the chunky knits, shearling coats, and pinstripe capes. The cherry on top though was definitely the debutante length leather gloves – OBSESSED!
Trend alert: Casual business wear (pinstripes), shearling and fur detailing, and capes!  Shop these trends below:

Shop The Look

In need of your daily dose of Lexicon? Want to join me during the exhilarating chaos that is fashion week? Interested in daily peeks at my #ootd's? Then follow me on Snapchat @ lexiconofstyle!
To check out the whole show and photo credit to style.com  and thank you to Courtney for inviting me!
Notice
: Undefined index: widget_max_width in
/var/www/wp-content/plugins/shopbop-widget/lib/CoreWidgetPublic.php
on line
101
Notice
: Object of class WP_Error could not be converted to int in
/var/www/wp-content/plugins/shopbop-widget/lib/CoreCategories.php
on line
795
Notice
: Function wpdb::prepare was called
incorrectly
. Unsupported value type (object). Please see
Debugging in WordPress
for more information. (This message was added in version 4.8.2.) in
/var/www/wp-includes/functions.php
on line
5905
Warning
: explode() expects parameter 2 to be string, object given in
/var/www/wp-content/plugins/shopbop-widget/lib/CoreCategories.php
on line
807
Notice
: Object of class WP_Error could not be converted to int in
/var/www/wp-content/plugins/shopbop-widget/lib/CoreCategories.php
on line
795
Notice
: Function wpdb::prepare was called
incorrectly
. Unsupported value type (object). Please see
Debugging in WordPress
for more information. (This message was added in version 4.8.2.) in
/var/www/wp-includes/functions.php
on line
5905
Warning
: explode() expects parameter 2 to be string, object given in
/var/www/wp-content/plugins/shopbop-widget/lib/CoreCategories.php
on line
807
Notice
: Object of class WP_Error could not be converted to int in
/var/www/wp-content/plugins/shopbop-widget/lib/CoreCategories.php
on line
795
Notice
: Function wpdb::prepare was called
incorrectly
. Unsupported value type (object). Please see
Debugging in WordPress
for more information. (This message was added in version 4.8.2.) in
/var/www/wp-includes/functions.php
on line
5905
Warning
: explode() expects parameter 2 to be string, object given in
/var/www/wp-content/plugins/shopbop-widget/lib/CoreCategories.php
on line
807
Notice
: Object of class WP_Error could not be converted to int in
/var/www/wp-content/plugins/shopbop-widget/lib/CoreCategories.php
on line
795
Notice
: Function wpdb::prepare was called
incorrectly
. Unsupported value type (object). Please see
Debugging in WordPress
for more information. (This message was added in version 4.8.2.) in
/var/www/wp-includes/functions.php
on line
5905
Warning
: explode() expects parameter 2 to be string, object given in
/var/www/wp-content/plugins/shopbop-widget/lib/CoreCategories.php
on line
807
Notice
: Trying to access array offset on value of type null in
/var/www/wp-content/plugins/shopbop-widget/vendor/mustache/mustache/src/Mustache/Parser.php
on line
278
Notice
: Trying to access array offset on value of type null in
/var/www/wp-content/plugins/shopbop-widget/vendor/mustache/mustache/src/Mustache/Parser.php
on line
278
Notice
: Trying to access array offset on value of type null in
/var/www/wp-content/plugins/shopbop-widget/vendor/mustache/mustache/src/Mustache/Parser.php
on line
278
Notice
: Trying to access array offset on value of type null in
/var/www/wp-content/plugins/shopbop-widget/vendor/mustache/mustache/src/Mustache/Parser.php
on line
278
Notice
: Trying to access array offset on value of type null in
/var/www/wp-content/plugins/shopbop-widget/vendor/mustache/mustache/src/Mustache/Parser.php
on line
278
Notice
: Trying to access array offset on value of type null in
/var/www/wp-content/plugins/shopbop-widget/vendor/mustache/mustache/src/Mustache/Parser.php
on line
278
Notice
: Trying to access array offset on value of type null in
/var/www/wp-content/plugins/shopbop-widget/vendor/mustache/mustache/src/Mustache/Parser.php
on line
278
Notice
: Trying to access array offset on value of type null in
/var/www/wp-content/plugins/shopbop-widget/vendor/mustache/mustache/src/Mustache/Parser.php
on line
278
Notice
: Trying to access array offset on value of type null in
/var/www/wp-content/plugins/shopbop-widget/vendor/mustache/mustache/src/Mustache/Parser.php
on line
278
Notice
: Trying to access array offset on value of type null in
/var/www/wp-content/plugins/shopbop-widget/vendor/mustache/mustache/src/Mustache/Parser.php
on line
278
Notice
: Trying to access array offset on value of type null in
/var/www/wp-content/plugins/shopbop-widget/vendor/mustache/mustache/src/Mustache/Parser.php
on line
278
Notice
: Trying to access array offset on value of type null in
/var/www/wp-content/plugins/shopbop-widget/vendor/mustache/mustache/src/Mustache/Parser.php
on line
278
Notice
: Trying to access array offset on value of type null in
/var/www/wp-content/plugins/shopbop-widget/vendor/mustache/mustache/src/Mustache/Parser.php
on line
278
Notice
: Trying to access array offset on value of type null in
/var/www/wp-content/plugins/shopbop-widget/vendor/mustache/mustache/src/Mustache/Parser.php
on line
278
Notice
: Trying to access array offset on value of type null in
/var/www/wp-content/plugins/shopbop-widget/vendor/mustache/mustache/src/Mustache/Parser.php
on line
278
Notice
: Trying to access array offset on value of type null in
/var/www/wp-content/plugins/shopbop-widget/vendor/mustache/mustache/src/Mustache/Parser.php
on line
278
Notice
: Trying to access array offset on value of type null in
/var/www/wp-content/plugins/shopbop-widget/vendor/mustache/mustache/src/Mustache/Parser.php
on line
278
JUST ARRIVED
See by Chloe Mahe Loafers

Stoney Clover Lane Classic Backpack
<
>
Jeffrey Campbell France Suede Boots
<
>
BE4342 Eliot Sunglasses by Burberry

Monroe Nylon Sunglasses at Shopbop
<
>
Recent Posts