September in NYC at NYFW DAY 1
Wahoo day 1 of NYFW SS15! I got to go to the Nicholas K, Desigual, and Meskita shows which was so so fun. Thank you all for having me!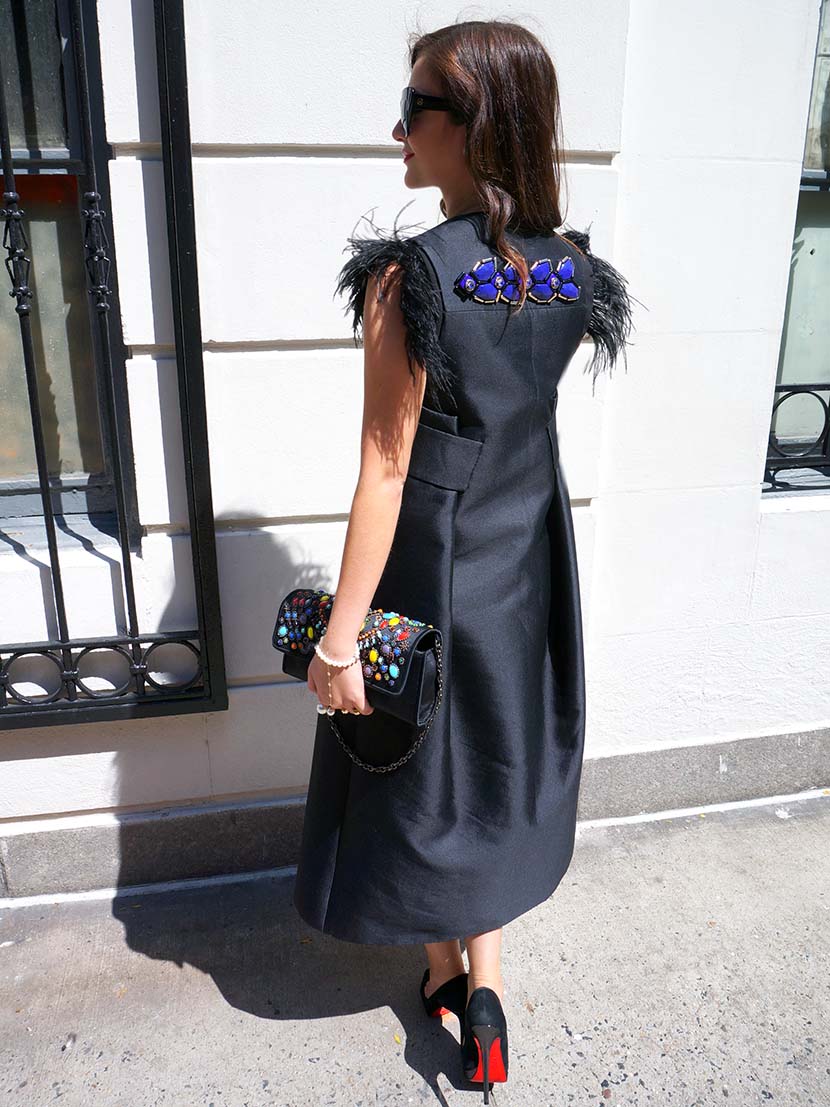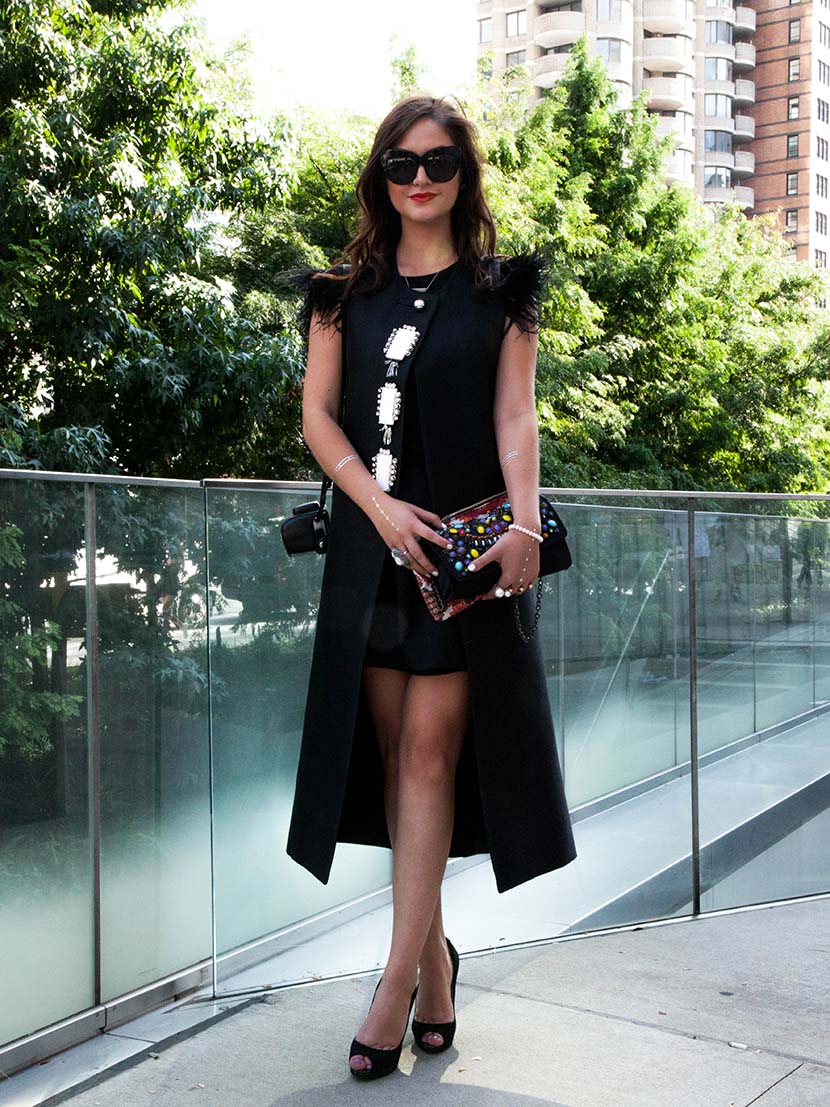 Fashion week is always a special time in NYC! It's the time to bring out your craziest outfits and to just sit back and enjoy the show. Fashion week also marks my half-year anniversary with NYC! I moved here February 1st 2014, 3 days before AW14 Fashion week started. I didn't have anything planned last season because I didn't get the concept of really being invited to shows and I was still living out of a box… So I just got dressed up, went out to the streets, and covered the street styles since I wasn't invited in to any shows.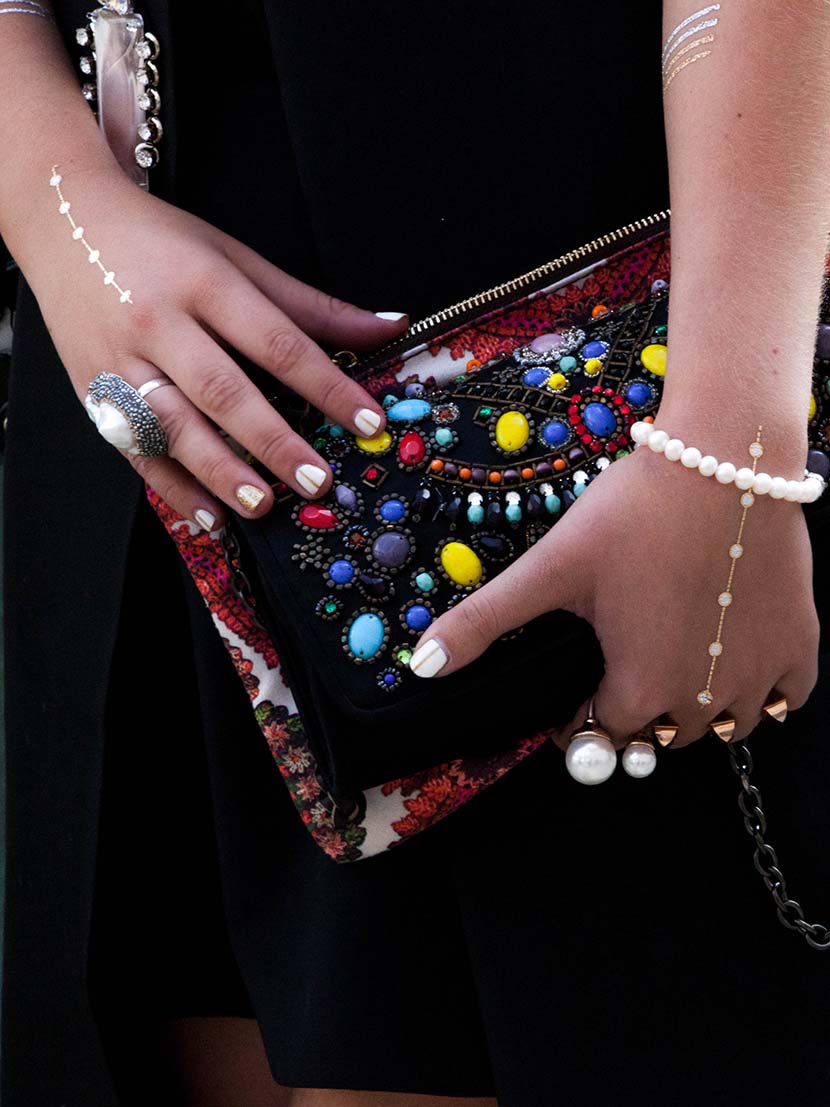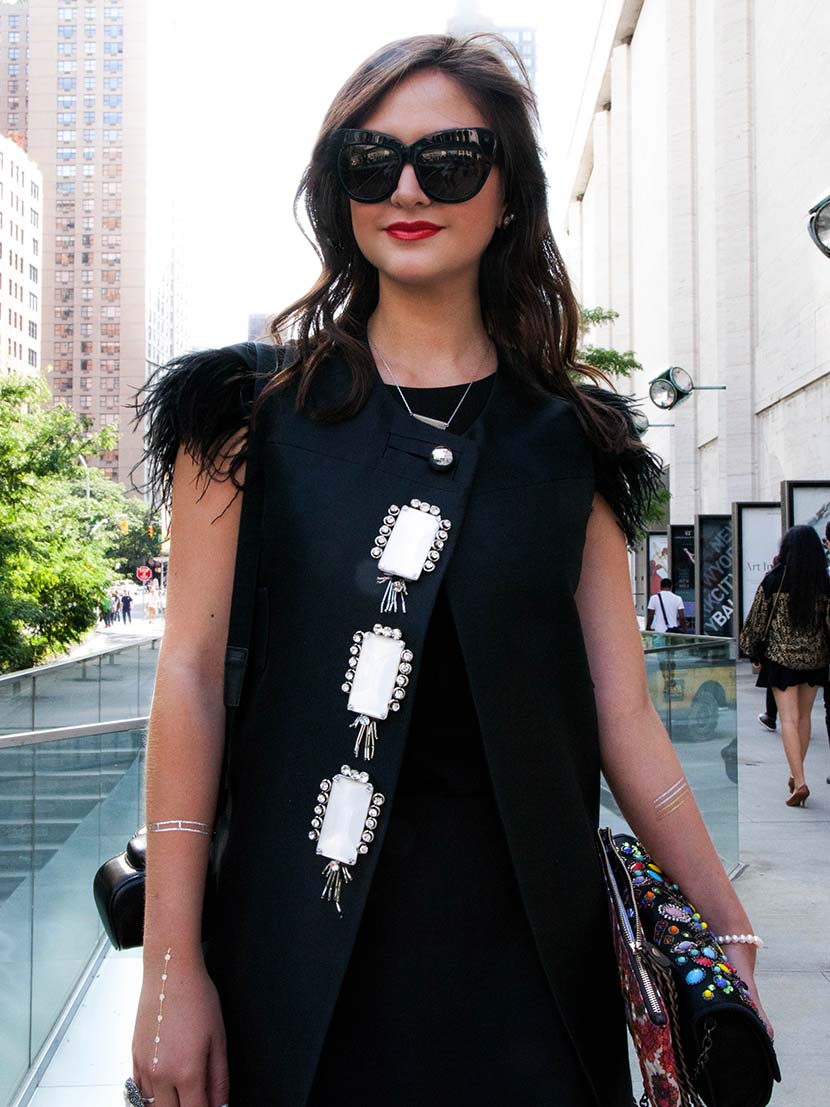 This turned out to be a complete blast, even though I was freezing my butt off the whole time. I met so many great people and photographers and got photographed myself actually! My pictures created such a buzz on Instagram that Mercedes Benz Promotions actually invited me to the last few days of the shows where I got to cover J. Crew, Concept Korea, Betsey Johnson, and Kaufmanfranco!
So this was my second fashion week experience and it was so crazy busy but amazing! I got invited to a bunch of shows and I can't wait to share them all with you! I will be blogging about each show and event that I was invited to and then blogging about my look for each day! So you can check out my last 3 posts prior to this one to see the shows I went on the first day!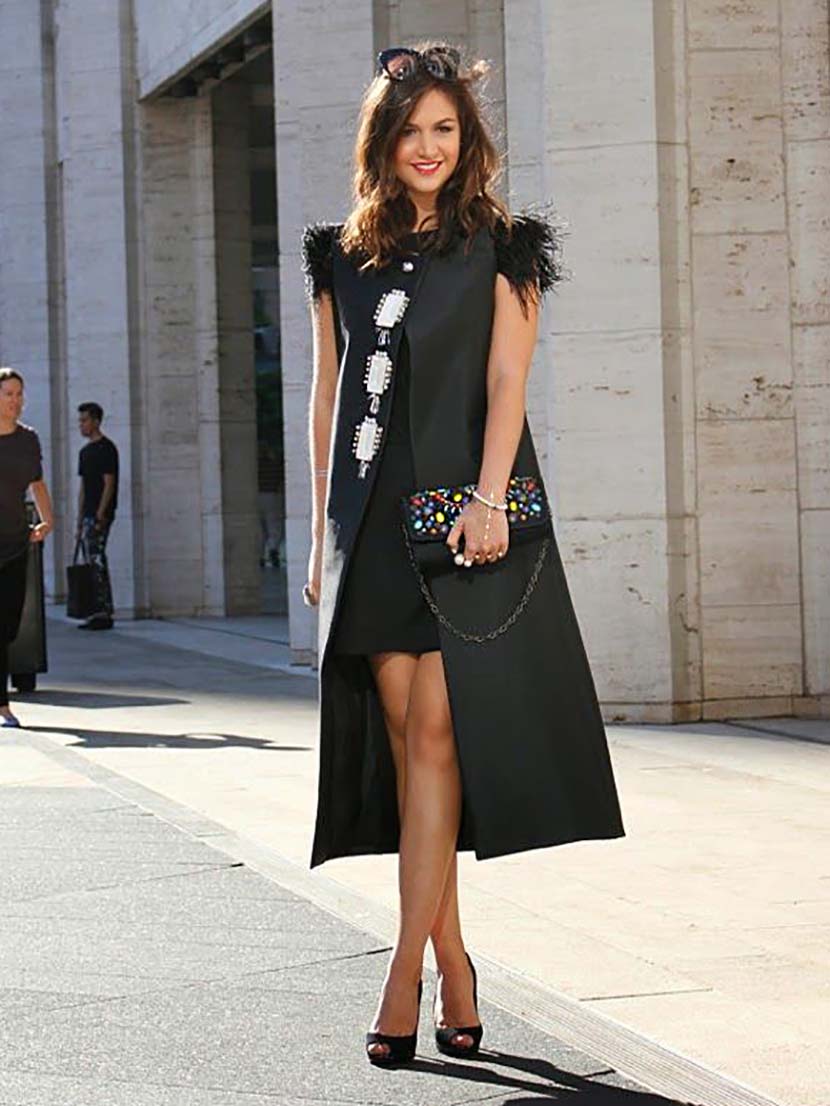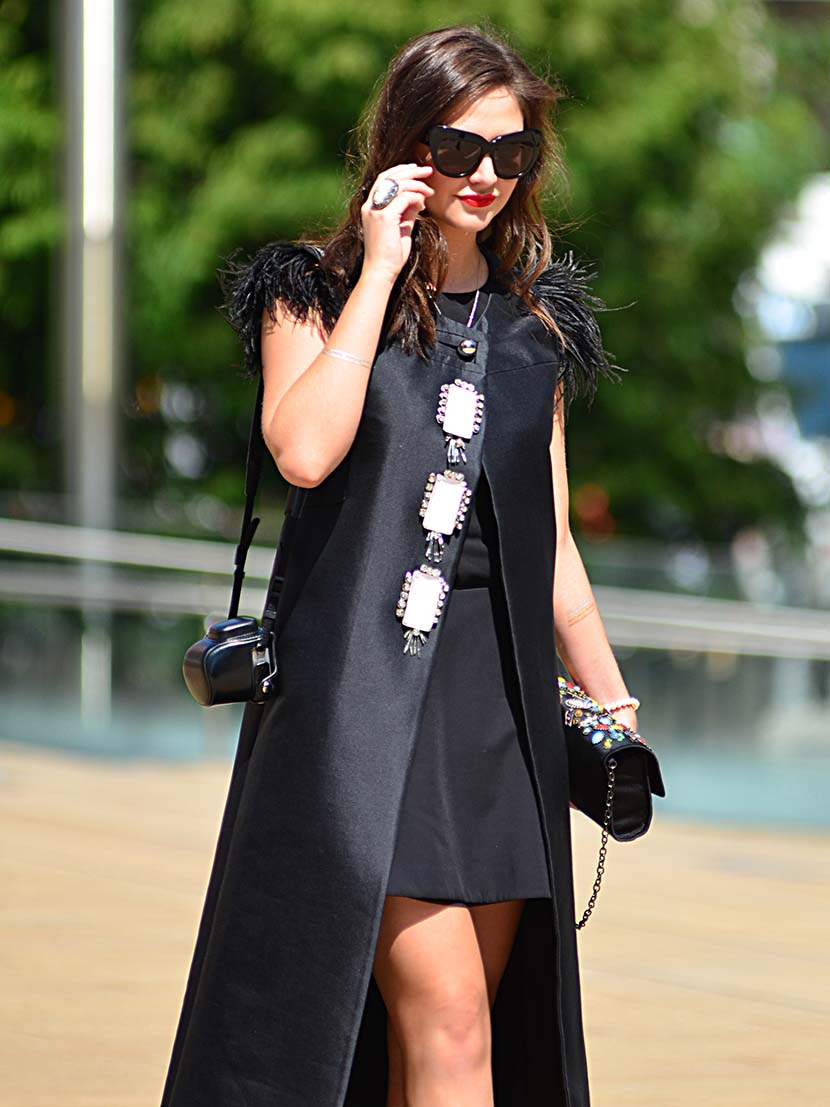 Anywho… this is what I wore to the first day of fashion week! I am wearing this AMAZING Prada duster that my mom and I found at a store down in Soho! Unfortunately I have to send it back now for her to use but its kind of fun. We're treating it sort of like a Sisterhood of the Traveling Pants thing I guess? Having to send it away just makes my time with it all that more special. So you will be seeing a lot of posts with it probably.
Here, I paired it with my new Rag and Bone mini skirt, an old Cynthia Vincent feather sleeved blouse, and my oh so uncomfortable but beautiful Louboutins. They are only uncomfortable because I bought them a half size too small… I was being impatient at the time and couldn't wait just a week to get the right size sent to me. Sort of beating myself up for that now but I push through the pain haha. I also had some fun with some Flash tattoos and cut up one of the bracelets to make sort of a ring chain down the top of each hand 😉
TREND ALERT FROM THE STREET: Invest in a sleeveless coat and some feather detailed garments! They're totally hot for this fall and winter and worth the investment!
SHOP THE LOOK

Notice
: Undefined index: widget_max_width in
/var/www/wp-content/plugins/shopbop-widget/lib/CoreWidgetPublic.php
on line
101
Notice
: Object of class WP_Error could not be converted to int in
/var/www/wp-content/plugins/shopbop-widget/lib/CoreCategories.php
on line
795
Notice
: Function wpdb::prepare was called
incorrectly
. Unsupported value type (object). Please see
Debugging in WordPress
for more information. (This message was added in version 4.8.2.) in
/var/www/wp-includes/functions.php
on line
5905
Warning
: explode() expects parameter 2 to be string, object given in
/var/www/wp-content/plugins/shopbop-widget/lib/CoreCategories.php
on line
807
Notice
: Object of class WP_Error could not be converted to int in
/var/www/wp-content/plugins/shopbop-widget/lib/CoreCategories.php
on line
795
Notice
: Function wpdb::prepare was called
incorrectly
. Unsupported value type (object). Please see
Debugging in WordPress
for more information. (This message was added in version 4.8.2.) in
/var/www/wp-includes/functions.php
on line
5905
Warning
: explode() expects parameter 2 to be string, object given in
/var/www/wp-content/plugins/shopbop-widget/lib/CoreCategories.php
on line
807
Notice
: Object of class WP_Error could not be converted to int in
/var/www/wp-content/plugins/shopbop-widget/lib/CoreCategories.php
on line
795
Notice
: Function wpdb::prepare was called
incorrectly
. Unsupported value type (object). Please see
Debugging in WordPress
for more information. (This message was added in version 4.8.2.) in
/var/www/wp-includes/functions.php
on line
5905
Warning
: explode() expects parameter 2 to be string, object given in
/var/www/wp-content/plugins/shopbop-widget/lib/CoreCategories.php
on line
807
Notice
: Object of class WP_Error could not be converted to int in
/var/www/wp-content/plugins/shopbop-widget/lib/CoreCategories.php
on line
795
Notice
: Function wpdb::prepare was called
incorrectly
. Unsupported value type (object). Please see
Debugging in WordPress
for more information. (This message was added in version 4.8.2.) in
/var/www/wp-includes/functions.php
on line
5905
Warning
: explode() expects parameter 2 to be string, object given in
/var/www/wp-content/plugins/shopbop-widget/lib/CoreCategories.php
on line
807
Notice
: Trying to access array offset on value of type null in
/var/www/wp-content/plugins/shopbop-widget/vendor/mustache/mustache/src/Mustache/Parser.php
on line
278
Notice
: Trying to access array offset on value of type null in
/var/www/wp-content/plugins/shopbop-widget/vendor/mustache/mustache/src/Mustache/Parser.php
on line
278
Notice
: Trying to access array offset on value of type null in
/var/www/wp-content/plugins/shopbop-widget/vendor/mustache/mustache/src/Mustache/Parser.php
on line
278
Notice
: Trying to access array offset on value of type null in
/var/www/wp-content/plugins/shopbop-widget/vendor/mustache/mustache/src/Mustache/Parser.php
on line
278
Notice
: Trying to access array offset on value of type null in
/var/www/wp-content/plugins/shopbop-widget/vendor/mustache/mustache/src/Mustache/Parser.php
on line
278
Notice
: Trying to access array offset on value of type null in
/var/www/wp-content/plugins/shopbop-widget/vendor/mustache/mustache/src/Mustache/Parser.php
on line
278
Notice
: Trying to access array offset on value of type null in
/var/www/wp-content/plugins/shopbop-widget/vendor/mustache/mustache/src/Mustache/Parser.php
on line
278
Notice
: Trying to access array offset on value of type null in
/var/www/wp-content/plugins/shopbop-widget/vendor/mustache/mustache/src/Mustache/Parser.php
on line
278
Notice
: Trying to access array offset on value of type null in
/var/www/wp-content/plugins/shopbop-widget/vendor/mustache/mustache/src/Mustache/Parser.php
on line
278
Notice
: Trying to access array offset on value of type null in
/var/www/wp-content/plugins/shopbop-widget/vendor/mustache/mustache/src/Mustache/Parser.php
on line
278
Notice
: Trying to access array offset on value of type null in
/var/www/wp-content/plugins/shopbop-widget/vendor/mustache/mustache/src/Mustache/Parser.php
on line
278
Notice
: Trying to access array offset on value of type null in
/var/www/wp-content/plugins/shopbop-widget/vendor/mustache/mustache/src/Mustache/Parser.php
on line
278
Notice
: Trying to access array offset on value of type null in
/var/www/wp-content/plugins/shopbop-widget/vendor/mustache/mustache/src/Mustache/Parser.php
on line
278
Notice
: Trying to access array offset on value of type null in
/var/www/wp-content/plugins/shopbop-widget/vendor/mustache/mustache/src/Mustache/Parser.php
on line
278
Notice
: Trying to access array offset on value of type null in
/var/www/wp-content/plugins/shopbop-widget/vendor/mustache/mustache/src/Mustache/Parser.php
on line
278
Notice
: Trying to access array offset on value of type null in
/var/www/wp-content/plugins/shopbop-widget/vendor/mustache/mustache/src/Mustache/Parser.php
on line
278
Notice
: Trying to access array offset on value of type null in
/var/www/wp-content/plugins/shopbop-widget/vendor/mustache/mustache/src/Mustache/Parser.php
on line
278
JUST ARRIVED
Tory Sport Tech Twill Pleated Tennis Skirt
<
>
Buy Mirabelle Boots from Frye

Buy Jumping Flat Rubber Boots from AIGLE
<
>
Recent Posts