Some presentation fun before the madness of NYFW
The first few presentations I went to were full of white space and contemporary beauty. I was able to take a look at what O'2nd has in store for Spring and Summer of 2016, and I have to say, it was so refreshing! 
Elena and I headed to the presentation together in the heat of the streets. Even though it's September, the city is still very much swarming with rays of sunshine and waves of heat. 
Presentations are really a great way for attendees to study the newly created pieces. Taking the time to look at not only the structure and design of each piece but as well as the details are one of my favorite things. I love being able to really look at the textures and fabrics used to make the collection flow together. 
If you don't know a lot about O'2nd, definitely check them out. The style that they curate is all based around taking classic styles and looking at them through a new perspective, which is something I do with my designs at Lexicon of Style. Having a new perspective when it comes to designing is always important due to the fact that it sets what you're creating apart from others, but what I absolutely love about brands like O'2nd is the fact that they look back on history to create something new. 
Remember all of the arts and humanities courses you took in college? Or the history courses that were mandatory? They all play a huge roll in all sorts of art, from paintings, to advertisements, to fashion. Each part of history plays a part in modern creativity. How cool is that? Next time you see a design you love, think about the different eras of creativity it comes from. 
My favorite look from O'2nd was this elegant pant design. It's classic and chic with a twist of contemporary life. When I paid attention to the design and the detail, I instantly thought of the women of NYC running from work to errands to grabbing drinks with her friends.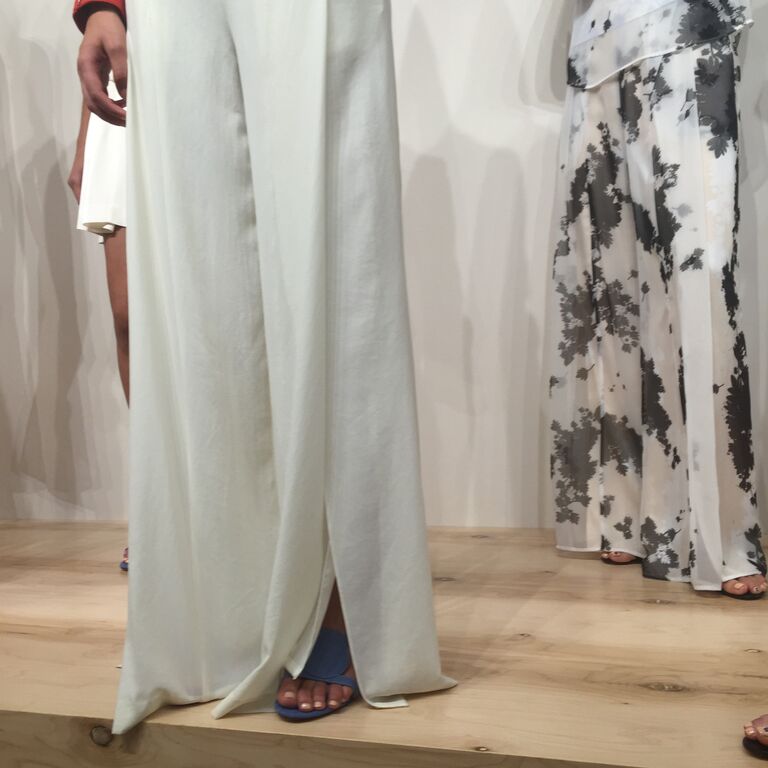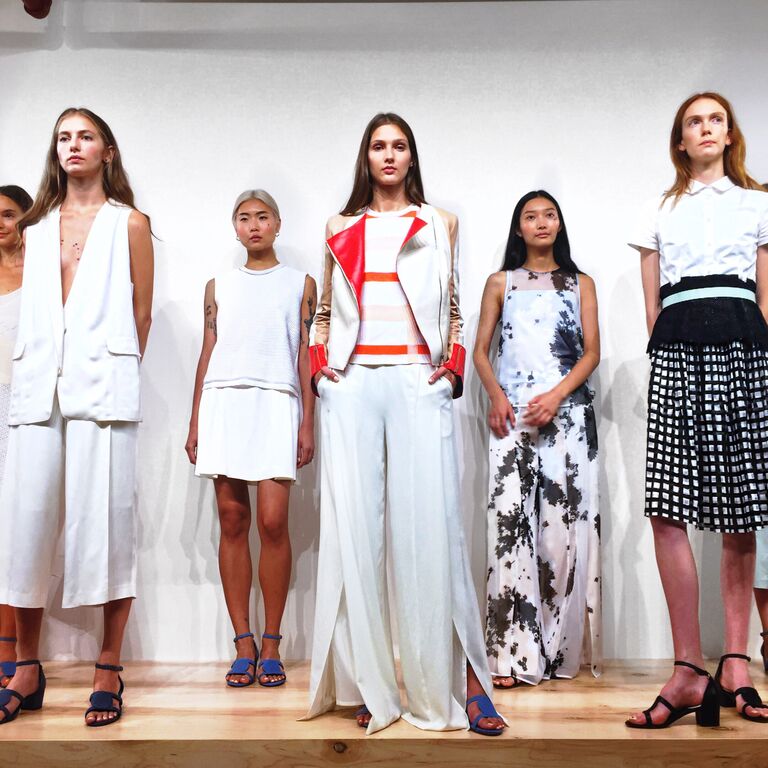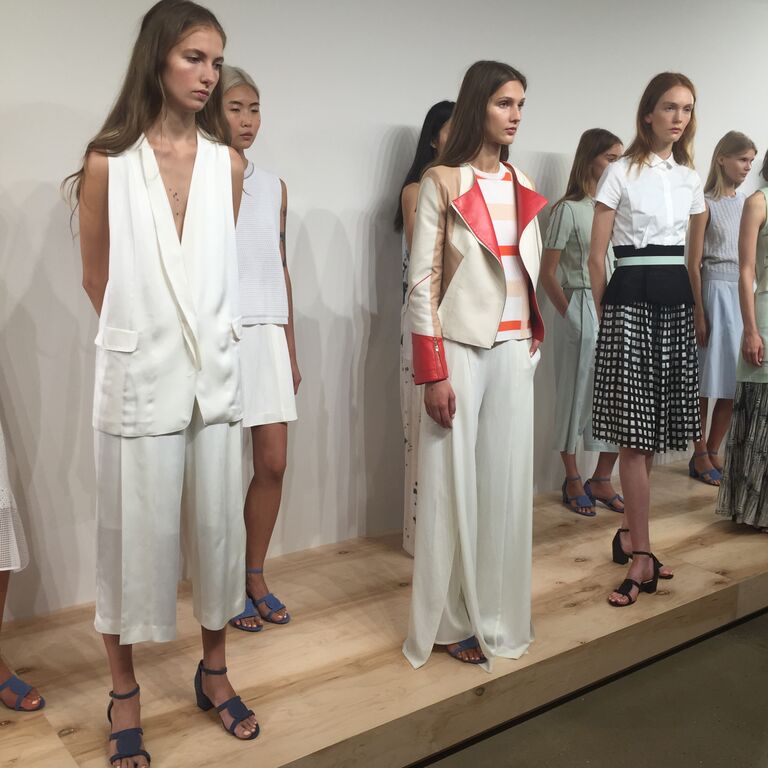 Daniel Silverstain was next on the agenda. I was welcomed by an array of refreshments and wonderful company, including bloggers. The looks of this show had me on the edge of my seat. They were full of an array of color and sleek structure throughout each design. The awesome thing about seeing this show immediately after O'2nd is the fact that Silverstein focuses more on futurism and plays off of contemporary lines that way, compared to O'2nd and their inspiration from classic styles.
I snagged a perfect photo from New York Mag that displays my favorite looks from Daniel Silverstain. The incorporation of silver and bronze with the textures and structures of the pieces bring the modern happenings not only here in NYC but all over the world onto the runway. I think that this collection is a great representation of culture throughout the modern time we are living in.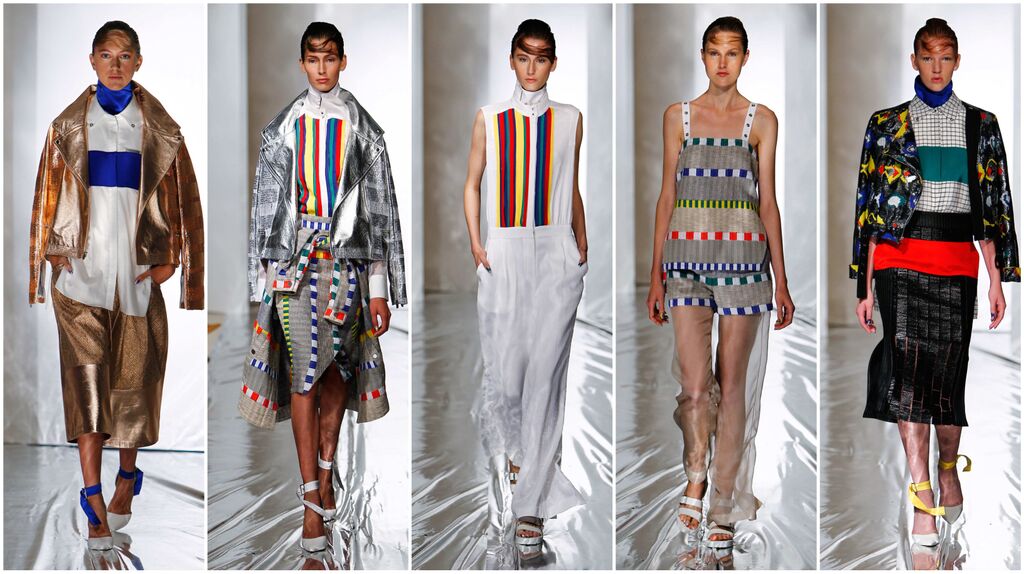 What do y'all think of these photos? I really tried to highlight the essence of each collection. I would love to hear what you think of the designs! Everything is an inspiration to me, including your thoughts.
Xx
Lex
[Piece contributed to by Jacqueline Kooser]
SHOP THE LOOK

Thank you text and links go here
Notice
: Undefined index: widget_max_width in
/var/www/wp-content/plugins/shopbop-widget/lib/CoreWidgetPublic.php
on line
101
Notice
: Object of class WP_Error could not be converted to int in
/var/www/wp-content/plugins/shopbop-widget/lib/CoreCategories.php
on line
795
Notice
: Function wpdb::prepare was called
incorrectly
. Unsupported value type (object). Please see
Debugging in WordPress
for more information. (This message was added in version 4.8.2.) in
/var/www/wp-includes/functions.php
on line
5905
Warning
: explode() expects parameter 2 to be string, object given in
/var/www/wp-content/plugins/shopbop-widget/lib/CoreCategories.php
on line
807
Notice
: Object of class WP_Error could not be converted to int in
/var/www/wp-content/plugins/shopbop-widget/lib/CoreCategories.php
on line
795
Notice
: Function wpdb::prepare was called
incorrectly
. Unsupported value type (object). Please see
Debugging in WordPress
for more information. (This message was added in version 4.8.2.) in
/var/www/wp-includes/functions.php
on line
5905
Warning
: explode() expects parameter 2 to be string, object given in
/var/www/wp-content/plugins/shopbop-widget/lib/CoreCategories.php
on line
807
Notice
: Object of class WP_Error could not be converted to int in
/var/www/wp-content/plugins/shopbop-widget/lib/CoreCategories.php
on line
795
Notice
: Function wpdb::prepare was called
incorrectly
. Unsupported value type (object). Please see
Debugging in WordPress
for more information. (This message was added in version 4.8.2.) in
/var/www/wp-includes/functions.php
on line
5905
Warning
: explode() expects parameter 2 to be string, object given in
/var/www/wp-content/plugins/shopbop-widget/lib/CoreCategories.php
on line
807
Notice
: Object of class WP_Error could not be converted to int in
/var/www/wp-content/plugins/shopbop-widget/lib/CoreCategories.php
on line
795
Notice
: Function wpdb::prepare was called
incorrectly
. Unsupported value type (object). Please see
Debugging in WordPress
for more information. (This message was added in version 4.8.2.) in
/var/www/wp-includes/functions.php
on line
5905
Warning
: explode() expects parameter 2 to be string, object given in
/var/www/wp-content/plugins/shopbop-widget/lib/CoreCategories.php
on line
807
Notice
: Trying to access array offset on value of type null in
/var/www/wp-content/plugins/shopbop-widget/vendor/mustache/mustache/src/Mustache/Parser.php
on line
278
Notice
: Trying to access array offset on value of type null in
/var/www/wp-content/plugins/shopbop-widget/vendor/mustache/mustache/src/Mustache/Parser.php
on line
278
Notice
: Trying to access array offset on value of type null in
/var/www/wp-content/plugins/shopbop-widget/vendor/mustache/mustache/src/Mustache/Parser.php
on line
278
Notice
: Trying to access array offset on value of type null in
/var/www/wp-content/plugins/shopbop-widget/vendor/mustache/mustache/src/Mustache/Parser.php
on line
278
Notice
: Trying to access array offset on value of type null in
/var/www/wp-content/plugins/shopbop-widget/vendor/mustache/mustache/src/Mustache/Parser.php
on line
278
Notice
: Trying to access array offset on value of type null in
/var/www/wp-content/plugins/shopbop-widget/vendor/mustache/mustache/src/Mustache/Parser.php
on line
278
Notice
: Trying to access array offset on value of type null in
/var/www/wp-content/plugins/shopbop-widget/vendor/mustache/mustache/src/Mustache/Parser.php
on line
278
Notice
: Trying to access array offset on value of type null in
/var/www/wp-content/plugins/shopbop-widget/vendor/mustache/mustache/src/Mustache/Parser.php
on line
278
Notice
: Trying to access array offset on value of type null in
/var/www/wp-content/plugins/shopbop-widget/vendor/mustache/mustache/src/Mustache/Parser.php
on line
278
Notice
: Trying to access array offset on value of type null in
/var/www/wp-content/plugins/shopbop-widget/vendor/mustache/mustache/src/Mustache/Parser.php
on line
278
Notice
: Trying to access array offset on value of type null in
/var/www/wp-content/plugins/shopbop-widget/vendor/mustache/mustache/src/Mustache/Parser.php
on line
278
Notice
: Trying to access array offset on value of type null in
/var/www/wp-content/plugins/shopbop-widget/vendor/mustache/mustache/src/Mustache/Parser.php
on line
278
Notice
: Trying to access array offset on value of type null in
/var/www/wp-content/plugins/shopbop-widget/vendor/mustache/mustache/src/Mustache/Parser.php
on line
278
Notice
: Trying to access array offset on value of type null in
/var/www/wp-content/plugins/shopbop-widget/vendor/mustache/mustache/src/Mustache/Parser.php
on line
278
Notice
: Trying to access array offset on value of type null in
/var/www/wp-content/plugins/shopbop-widget/vendor/mustache/mustache/src/Mustache/Parser.php
on line
278
Notice
: Trying to access array offset on value of type null in
/var/www/wp-content/plugins/shopbop-widget/vendor/mustache/mustache/src/Mustache/Parser.php
on line
278
Notice
: Trying to access array offset on value of type null in
/var/www/wp-content/plugins/shopbop-widget/vendor/mustache/mustache/src/Mustache/Parser.php
on line
278
JUST ARRIVED
Buy Classic One Piece from Fe Noel

Mini Rachel Bag by BY FAR
<
>
Illesteva Charleston Havana With Grey Flat Le...

Rectangular Sunglasses at Shopbop
<
>
Recent Posts